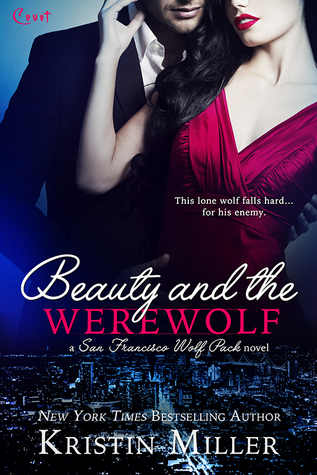 Beauty and the Werewolf
by
Kristin Miller
Series: San Francisco Wolf Pack #2
Pub. Date: Aug. 24, 2015
Publisher: Entangled Covet
Pages: 178
Format: eARC
Source: Publisher / NetGalley
My Rating:
Sultry Scale:
This lone wolf falls hard...for his enemy.
Unmated werewolves don't normally live past three hundred years old...and billionaire Jack MacGrath is cutting it close. Sure, he has almost everything-the respect of his peers, a mansion in San Francisco, a private jet, and fast cars. But without a mate, Jack's in trouble. Then he sees her. Gorgeous, proud...and his enemy.
Isabelle Connelly is good at hiding things from her father. Like her success as a painter, or the incredibly intense attraction she has to Jack MacGrath. After all, she's royalty and falling for anyone lesser-to say nothing of a rival pack-would be, er,
unseemly
. Now she must choose between her duty to her family and her pack...or her perfect fated mate.
The second installment of the San Francisco Wolf Pack series doesn't really focus on the San Fran pack at all. So no worries if you haven't read the first book.
I lurved the hero of this book, Jack MacGrath. Although he lives in San Fran, he doesn't interact with the pack and is a loner for all intents and purposes. A very rich loner... and a selfless one to boot. Jack is 320 years old, which is almost unheard of for an unmated wolf. Unfortunately, Jack is living on borrowed time and the only thing that will save him and extend his life by 700 years is to find his fated mate - his Luminary. He has looked high and low for his luminary and it doesn't look like he will ever find her. That all changes with a chance meeting at an art auction.
The other protagonist in the story (I refuse to call her a heroine) is Isabelle Connelly, heir to the Irish Wolf Pack. As much as I liked Jack, I disliked Isabelle an equal amount. While I enjoyed the descriptions of her paintings and her slips into her Irish sayings/dialect, there weren't many other redeeming qualities to win her over in my eyes. I hate hate hated the way she treated Jack, and she didn't carry the qualities I would expect of a pack alpha. Of course some of this could have been my catty bitchface rearing its head because I wanted Jack for myself... but I don't think I can attribute it ALL to that (just 99% maybe).
So I liked
Beauty and the Werewolf
much better than
The Werewolf Wears Prada
. The characters seemed more dimensional and I did feel a strong connection to Jack and his plight. I will definitely keep reading to see the dynamics of future fated mate pairs.
I received an advanced copy of this book in exchange for an honest review.
View all my reviews
San Francisco Wolf Pack Series