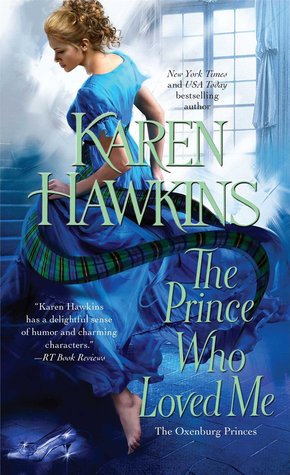 The Prince Who Loved Me
by
Karen Hawkins
Series: The Oxenburg Princes #1
Pub. Date: Sept. 23, 2014
Publisher: Pocket Books
Pages: 384
Format: eBook
Source: Purchased
My Rating:
Sultry Scale:
A handsome, rakish prince who doesn't believe in true love meets a stubborn lass who will settle for nothing less...
In a lighthearted retelling of a classic fairy tale, bestselling author Karen Hawkins gives Cinderella a Scottish twist!
Prince Alexsey Romanovin enjoys his carefree life, flirting—and more—with every lovely lady who crosses his path. But when the interfering Grand Duchess Natasha decides it's time for her grandson to wed, Alexsey finds himself in Scotland, determined to foil her plans. Brainy, bookish, and bespectacled, Bronwyn Murdoch seems the perfect answer—she isn't at all to the duchess' taste.
Living at the beck and call of her ambitious stepmother and social butterfly stepsisters, Bronwyn has little time for a handsome flirt—no matter how intoxicating his kisses are. After all, no spoiled, arrogant prince would be seriously interested in a firm-minded female like herself. So . . . wouldn't it be fun to turn his "game" upside down and prove that an ordinary woman can bring a prince to his knees?
The Oxenburg Princes series is a spinoff of the
Duchess Diaries
, which I have not finished. Oops. I need to go back and finish out that series now... I wish I had done it before (but I don't think its absolutely necessary). If you have read the Duchess Diaries, then you will probably recognize our hero and the folks from Oxenburg.
Our hero in this first book of the series is Alexsey Romanovin, one of four Oxenburg Princes. Prince Nikki is heir to the throne, Prince Wulf was married off in the Duchess Diaries, and Prince Grisha leads Oxenburg's armies.I find these brothers very interesting, as they were born to their royal father and a Romany mother. Their father changed the country's laws to marry a commoner when he met and fell in love with his Romany wife. So I can imagine the dark good looks of these half-gypsy princes. And Prince Alexsey is even more in touch with his Romany relatives, as he seeks to be King of the Gypsies. I would have loved to have more of this aspect worked into the story - but there was enough to get my imagination going.
Alexsey's Tata Natasha has been playing matchmaker with Alexsey and pressuring him to marry. Alexsey of course does not see his need to marry and provide heirs as he is not first in line for the throne. In his view, he has three brothers, and as his Tata Natasha often tells him "there is not room ont eh throne for four asses." Luckily for us, love usually comes when you least expect it.
I loved our heroine, Bronwyn. She was sweetly naive and her attempts at flirting were ridiculously funny. You will know why I loved her from the start of the book where she is reading a romance novel and yelling at the stupid heroine. The is a very early paragraph in the book, while Bronwyn is reading The Black Duke:
Somewhere around chapter seven she started wondering if Lucinda, the annoyingly incompetent heroine of The Black Duke, truly deserved to live. The chit was forever whining about her life, while refusing to DO anything about it. "I daresay once Sir Mordred flashes his villainous knife, you'll scream and run away. Although knowing you, you'll trip on your skirts on your way out the door and someone will have to rescue you."
I can't tell you how many times I have felt the same way when reading certain heroines... and it was so funny to see it actually written into the story. It caused me to form an instant connection with Bronwyn, and I held it throughout most of the book. Bronwyn even provided a little insight as to why us readers love our romance novels so much:
The beauty of novels was that one never grew tired of the heroes, because as soon as one closed the book and mourned the loss of the characters - for such was the way of good books - one could open another and fall in love all over again. Thus, one was forever being swept off one's feet.
And therein lies the reason I am firmly on the shelf myself, and love reading about the bluestocking spinsters of the past.
This is somewhat of a retelling of Cinderella, but enough things are changed that you don't feel like the story is being retold exactly as it has been in the past. You get the requisite stepmother and step-sisters, but I liked that they were not necessarily evil.I really liked Bronwyn's absentminded inventor father, but I think that my favorite secondary character of the book was actually the housekeeper, Mrs. Pitcairn. All of her interactions/episodes in the story just cracked me up.
So this was a good start to the series and I look forward to continuing with future installments (and going back to finish the Duchess Diaries).
View all my reviews
The Oxenburg Princes Series