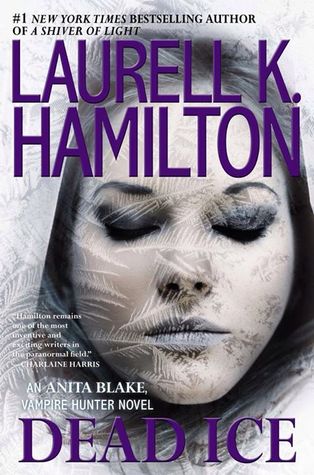 Dead Ice
by
Laurell K. Hamilton
Series: Anita Blake #24
Pub. Date: June 9, 2015
Publisher: Penguin Audio
Narrator: Kimberly Alexis
Length: 20 hrs 4 min
Format: Audiobook
Source: Audible
My Rating:
Sultry Scale:
Anita Blake has the highest kill count of any vampire executioner in the country. She's a U.S. Marshal who can raise zombies with the best of them. But ever since she and master vampire Jean-Claude went public with their engagement, all she is to anyone and everyone is Jean-Claude's fiancée.

It's wreaking havoc with her reputation as a hard ass—to some extent. Luckily, in professional circles, she's still the go-to expert for zombie issues. And right now, the FBI is having one hell of a zombie issue.

Someone is producing zombie porn. Anita has seen her share of freaky undead fetishes, so this shouldn't bother her. But the women being victimized aren't just mindless, rotting corpses. Their souls are trapped behind their eyes, signaling voodoo of the blackest kind.

It's the sort of case that can leave a mark on a person. And Anita's own soul may not survive unscathed . . .
It's been a while since I initially read all of this series in one sitting, and going back to it makes me remember how much I liked it. I know that some people now complain about the gratuitous sex... but I still enjoy the series, the world-building, the ways the various powers works, and most of the individual characters. It may just be my smutty little heart, but I do hope that we will continue to get new books in the series, as they come out so infrequently that its not something that I think I will get tired of.
Let me start off with the title and cover... because I am not really sure how they relate to the story. I don't remember anything particularly "icy" happening here - there were no freezing powers or anything like that. Just another necromancer trapping souls and raising zombies. The antagonist in this story is related to a past villain, Dominga Salvador. His identity turned out to be very interesting and he was a super bad guy. But he didn't seem as much of a threat to Anita and gang than other villains have in the past. I think there was a bit less time spent on the plot conflict in this book because the brunt of the focus was on Anita's various relationship dramas.
Anita and Jean Claude are in the midst of wedding plans and, at the same time, Anita is planning a commitment ceremony among herself, Mikah and Nathaniel. However this is making some of the others in her bed petty and jealous, and the tigers are concerned that she still needs to fulfill the prophecy. Plus Asher is still acting like a spoiled brat, so he causes another line of drama. The bulk of the book is taken up dealing with these various dramas, and dealing with new powers that are continuing to develop and evolve with the main players. I happen to like the dynamic happening between all these love interests, and the characters are so unique and different personality-wise that its easy for me to recall them and what role they have played in the past (even when its been a couple years since I read the last book). I can't wait to see the actual wedding play out, and see what relationships solidify with regard to the commitment ceremony. But I do hope to see a bit more action in the next book, as I feel like Anita is at her best when facing threat's to their empire.
I listened to
Dead Ice
in audio, and the narrator did a fabulous job with the different voices, dialects and characters. I think I will continue the series in audio in the future as I just love hearing that "ma petite" in Jean Claude's french accent.
View all my reviews