Hiya Bambinas-
I am starting a new feature on the blog in the hopes of making a dent in my growing TBR pile. Now that I have started reviewing and blogging, I have fallen way behind on all of the series that I like to read. So every Saturday is now going to be SERIES SATURDAY, where I will be reviewing a book from one of the series I am behind on. You will probably think that I am kinda nutty because instead of catching up, I am starting with re-reading a series! I know, it makes no freaking sense - but I was talking with someone about this series recently and I just wanted to re-read it so bad. So I decided to do this one in Audio (via Hoopla) while I am working around the house on the weekend. I didn't review these books the first (two) times I read them, and I am glad to review them now for the blog. So without further ado, welcome to Series Saturday!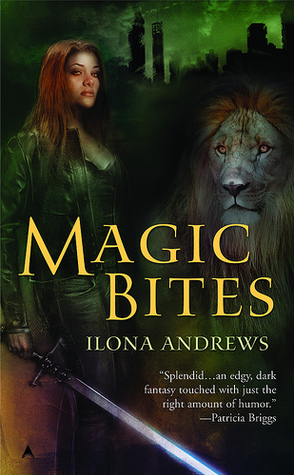 Magic Bites
by
Ilona Andrews
Series: Kate Daniels #1
Pub. Date: Jan. 12, 2009
Publisher: Tantor Audio
Narrator: Renée Raudman
Length: 9 hrs 5 min
Format: Audiobook
Source: Library / Hoopla
My Rating:
Sultry Scale:
Atlanta would be a nice place to live, if it weren't for magic…
One moment magic dominates, and cars stall and guns fail. The next, technology takes over and the defensive spells no longer protect your house from monsters. Here skyscrapers topple under onslaught of magic; werebears and werehyenas prowl through the ruined streets; and the Masters of the Dead, necromancers driven by their thirst of knowledge and wealth, pilot blood-crazed vampires with their minds.
In this world lives Kate Daniels. Kate likes her sword a little too much and has a hard time controlling her mouth. The magic in her blood makes her a target, and she spent most of her life hiding in plain sight. But when Kate's guardian is murdered, she must choose to do nothing and remain safe or to pursue his preternatural killer. Hiding is easy, but the right choice is rarely easy…
Here kitty kitty kitty...
I am reading this series for the third time, now in audio, before I get caught up with the latest book. The narrator, Renée Raudman, does a fabulous narration job with this series. She has a nice moderate voice for Kate... and easily slips into the great and growly Curran.
The series is set in a futuristic Atlanta where magic is swallowing the city. The world building is fairly detailed and unique, and I love the byplay of the magic competing with technology. I can't imagine trying to navigate the landscape of Atlanta via horseback!
Our heroine, Kate Daniels, is a mercenary who has just learned that her guardian, Greg, was murdered. In this first installment, Kate is investigating Greg's murder and it is through that investigation that we will be introduced to the People (vampires) and the Pack (shapeshifters). I find the concept of the People to be somewhat icky (but unique) in that we have necromancers "driving" vampires who are much like zombies instead of the normal sexy and broody vamps common in paranormal romance. The Pack, on the other hand, is full of interesting shapeshifters - particularly Curran, the Beast King.
I absolutely love Curran - he is one of my favorite shapeshifter book boyfriends. Though we don't have any romance between Kate and Curran in the early books - we start a slow burn of suggestive sexual tension between the two that will carry us through the entire series. For those who want more romance with their urban fantasy - hang in there - I promise this relationship is worth the wait!
View all my reviews
Kate Daniels Series