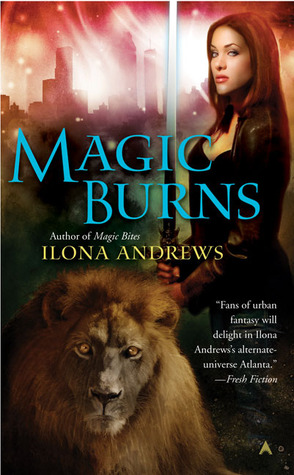 Magic Burns
by
Ilona Andrews
Series: Kate Daniels #2
Pub. Date: Jan. 29, 2009
Publisher: Tantor Audio
Narrator: Renée Raudman
Length: 9 hrs 38 min
Format: Audiobook
Source: Library / Hoopla
My Rating:
Sultry Scale:
Down in Atlanta, tempers – and temperatures – are about to flare…
As a mercenary who cleans up after magic gone wrong, Kate Daniels has seen her share of occupational hazards. Normally, waves of paranormal energy ebb and flow across Atlanta like a tide. But once every seven years, a flare comes, a time when magic runs rampant. Now Kate's going to have to deal with problems on a much bigger scale: a divine one.
When Kate sets out to retrieve a set of stolen maps for the Pack, Atlanta's paramilitary clan of shapeshifters, she quickly realizes much more at stake. During a flare, gods and goddesses can manifest – and battle for power. The stolen maps are only the opening gambit in an epic tug-of-war between two gods hoping for rebirth. And if Kate can't stop the cataclysmic showdown, the city may not survive…
Magic Burns
is one of my favorite books of the Kate Daniels series. I think its because I loved Bram, he is one of my favorite characters. Bram is somewhat of an antagonist, or anti-hero and his story is wrapped up in the mythology of Morrigan, a Celtic deity. He has a great personality and is just a lot of fun.
This series has so many great secondary characters. We continue getting to know Derek and Saimon (forgive my spelling of names - I never remember how to spell them names when I listen in audio). Derek has matured quite a bit and things are looking up for him in the pack. And Saimon gets drunk on the magic fluctuations and is even more charmingly cheesy than normal.
Curran is now playing a bigger role in the story, and his intentions toward Kate are becoming more clear - you just have to pay attention to recognize them all. I love the byplay between Kate and Curran, they just can't help trying to get a rise out of one another - but its also clear that feelings are developing between the pair.
We are introduced to some new secondary characters in this installment that will continue to play a role in the future. Kate has acquired a ward, Julie, who seems to inspire the protective instinct from everyone she meets (except her boyfriend, Red). The hyenas solidify themselves here as well - and we are introduced to the hilariously flirty Raphael. These are definitely two to keep an eye on in future books.
The bad thing about re-reading a series that you love is that once you start, you just want to keep going. I can't do that right now because I have ARCs on the blog schedule, so these books will be calling to me until the weekend when I can get back to listening.
View all my reviews
Kate Daniels Series