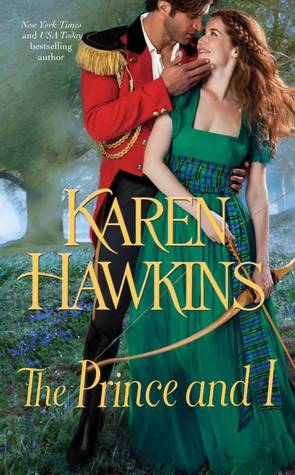 Series: Oxenburg Princes #2
Pub. Date: Aug. 25, 2015
Publisher: Pocket Books
Pages: 400
Format: eARC
Source: NetGalley
From New York Times bestselling author Karen Hawkins, the lively and sizzling second book in a new fairytale-based Scottish historical romance series, The Princes of Oxenburg.
Gregori Romanovin, Oxenburg's warrior prince, is escorting his grandmother to a house party deep in the Highlands when he and his entourage are robbed at sword point by a group of ruffians led by a man the locals have dubbed "The Scottish Robin Hood." The battle-savvy prince instantly realizes there's something different about this thief, and it's not just the Scottish accent—it's the fact that "he" is really a "she."
Lady Murian, a young widow out for revenge against the powerful earl who killed her husband and stole his birthright, is now living in the woods with her family's banished retainers. To stay alive, she and her band of men rob rich nobles coming to visit the evil earl. But when she ambushes the Prince of Oxenburg's golden coach, she gets far more than she expected. For when the prince uncovers her true identity, she's afraid that
he
might be the real thief…of her heart.
This second installment of The Oxenburg Princes is a twist on the classic tale of Robin Hood. Only this time, the wily thief is female and our heroine for the story. Lady Murian has been robbed of her husband and home by the scoundrel Earl of Loudon. In an effort to provide for her people and win back her castle, she has taken to the ways of highwaymen and ambushes the earl's guests seeking donations to her cause. Murian was an admirable heroine. She was brave and bold and saucy. She had wild red hair, flashing silver eyes and knew how to wield a rapier. She also had a huge heart and cared for her people no matter the personal cost to herself. I loved the strength and selflessness she displayed at all costs.
Our prince in the story is Maksim (Max), the warlord prince of Oxenburg. Max has recently lost a close friend in the wars and has been in a very dark place. When he encounters Murian (is robbed by her and her band of merry men and women), he sees a little light in the darkness and is determined to find this mysterious "Robin Hood". Murian, of course, leads him on a merry chase. Max was a great hero and love interest. He was honorable, intelligent, caring, and just a tad broody. He also sounded quite dashing with his broad shoulders, thick black hair and piercing green eyes. I was able to form a great picture of him in my head in his red military uniform or his winter furs.
Of course we have more hijinks from Tata Natasha... only this time she is a bit shamefaced as she has done something very very foolish and must seek Max' help. That part of the story was quite funny. Loudon was a good villain as he inspired ire quite easily with his high-handed ways and poor treatment of those around him.
This was one of those sweet historicals that just made you happy to read. I received an advanced copy of this book in exchange for an honest review.
View all my reviews
About the Author
New York Times
and
USA Today
best-selling author Karen Hawkins is known for her wonderfully humorous and emotion-tugging historical and contemporary romances. The author of over 30 novels, Karen writes for a living between shopping for shoes, playing around on Facebook and Pinterest, looking for fun items for
Hawkins Manor
, and napping, although usually not at the same time. Sometimes, for fun, she takes Instagram pictures of her two rescue dogs, Sadie and Teke, and posts them online.
Karen lives in balmy Orlando, Florida, with her husband, aka Hot Cop, and her two dogs. Her children are both out of college and have become productive, non-violent members of society. Karen writes six to eight hours a day when not obsessively reading research books on Regency-era Scotland, snacking on chocolate, or looking out the windows of her house and thinking about gardening. Her hobbies include sculpting, oil painting, playing badminton, and -- ok, ok, she doesn't have any hobbies, but if she did, she's sure they'd be something refined and fascinating.
If you want to follow Karen on any of the various social media outlets that allow her to engage in 'productive procrastination,' you can find her at:
If you'd like to keep up with Karen's crazed and hectic schedule, win free books, find out about her coming releases, or just want to engage in some easy on-line snooping, sign up for Karen's
amazing newsletter!
The Oxenburg Princes Series