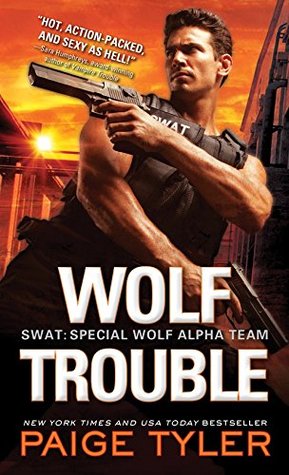 Wolf Trouble
by
Paige Tyler
Series: SWAT #2
Pub. Date: Aug. 4, 2015
Publisher: Sourcebooks Casablanca
Pages: 352
Format: eARC
Source: Netgalley
My Rating:
Sultry Scale:
He's in trouble with a capital T...
There's never been a female on the Dallas SWAT team and Senior Corporal Xander Riggs prefers it that way. The elite pack of alpha male wolfshifters is no place for a woman. But Khaki Blake is no ordinary woman.
When Khaki walks through the door attractive as hell and smelling like heaven, Xander doesn't know what the heck to do. Worse, she's put under his command and Xander's protective instincts go on high alert. When things start heating up both on and off the clock, it's almost impossible to keep their heads in the game and their hands off each other...
With this second installment of the SWAT series, I have become a Paige Tyler fan. She does a great job writing growly alpha male heroes without giving them any a$$hole qualities. I absolutely love this team of alpha wolf shifters, and I look forward to reading every one of their stories. (I also need to work Ms. Tyler's other series, X-Ops, into the blog schedule now that I know there may be more growlers for my book boyfriend collection!)

I really liked Khaki, our heroine in this book. She had wanted to be a cop from a young age and was succeeding in her goal until she got tangled up with a douchecanoe in her department. That guy (Jeremy) was a piece of work, and I loved seeing Khaki put him in his place instead of playing the meek mouse. I knew she was gonna slide right in to the Dallas SWAT team, but I did not anticipate just how kicka$$ she would be from the get-go. I was 100% supportive of this heroine and her story.

However, as much as I liked Khaki, I think I liked Xander just that tiny bit more. But hey, I'm a chick and he's a hot growly alpha wolf - my lust cannot be helped. Xander had it bad for Khaki from the first whiff, and it totally confused him and put him in an awkward position as her squad leader. But they finally figure out they have mutual lust and get busy... on the floor, bed, table, wall, you name it. I was not jealous, not one bit. (This is me, rolling my eyes.)

The suspense plot in this book continued to keep my interest, and compelled me to finish in one sitting. Because both of our main characters are wolves in this installment, the paranormal aspect drove the story more than it did in Hungry Like the Wolf. I enjoyed learning a little more about those furry abilities and how they come and go. And Xander was great in the teacher role. This read is sure to be a hit with readers of the paranormal genre.

I received an advanced copy of this book in exchange for an honest review. 4 stars / 3 flames.


View all my reviews
SWAT Series