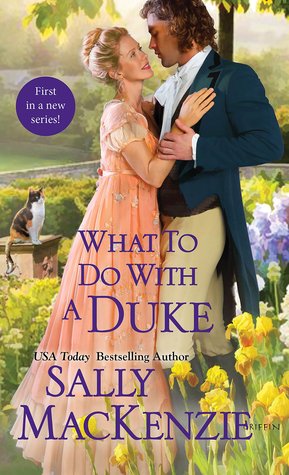 What to Do with a Duke
by
Sally MacKenzie
Series: Spinster House #1
Pub. Date: Aug. 25, 2015
Publisher: Zebra / Kensington
Pages: 352
Format: eARC
Source: NetGalley
My Rating:
Sultry Scale:
Welcome to the charming, fatefully named village of Loves Bridge, where a woman destined for spinsterhood can live a life of her own choosing—or fall unexpectedly, madly in love…
Miss Isabelle Catherine Hutting would rather be lounging in the library than circling the ballroom in search of a husband any day. So when Cat hears that the town's infamous Spinster House is open for a new resident, she jumps at the chance to put all this marriage business behind her. But first she must make arrangements with her prospective landlord, Marcus, the Duke of Hart—the most handsome man she's ever seen, and the only man who's ever impressed her in the least…
With her wit, independent spirit, and not least of all her beauty, Marcus can't help but be stirred by Cat. It's terribly unfortunate he's not looking to marry, given the centuries-old curse that left his family with the Spinster House to begin with. No duke shall live to see his heir's birth. But is there a chance the curse could be broken—in true fairy-tale fashion—by an act of true love? The race to Happily Ever After is about to begin…
This was a fun light-hearted read. It wasn't too deep and didn't deal with horribly serious issues - it was just kinda fluffy and fun.
Our hero in this story is the Duke of Hart, also known as the Cursed Duke. In nearly 200 years past, it is believed the 3rd Duke of Hart was cursed by his pregnant lover (Isabel Dorring) when he married another. Since that time, all of the dukes have perished shortly after their wives have become enceinte with their heir. As Marcus has been told of the curse since he was a small boy, and both his father and grandfather succumbed to an early death, the curse is firmly rooted in his psyche.
Part of the curse is that the house where Isabel Dorring lived is now known as the Spinster House, and serves as home to a confirmed spinster. Whenever a vacancy occurs at Spinster House (whether by death or marriage), the duke must personally go to the country and pick a new spinster. And after a marriage-minded hussy has (again) tried to trap the duke into marriage, the notice of the spinster vacancy comes at just the right time when he needs to get out of London for a bit.
Catherine is the oldest daughter of a vicar, who has a very full house and whopping 10 children. Even though Cat is the eldest, her younger sisters are already marrying and Cat is suffering snide comments from relatives and neighbors alike. Cat only aspires to be an author, but she can't get a moment of peace and quiet to write her stories. She jumps at the chance to become the new spinster, and so begins her interaction with the duke.
Will Cat and Marcus be able to break the curse? I liked both of these characters and all of their interactions with one another. I felt so sorry for Marcus growing up in the shadow of the curse, feeling lonely and yearning for love and a family. And I could imagine the exasperation Cat felt at never getting time to herself in her crowded house. Though I have to say that I absolutely loved her youngest brothers - they stole the show several times in the book. This was a sweet country love story and I look forward to reading more about future spinsters finding love.
I received an advanced copy of this book in exchange for an honest review.
View all my reviews
Spinster House Series