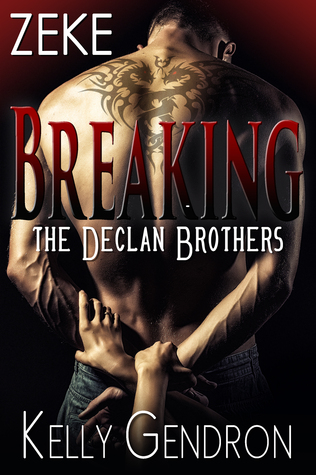 ZEKE
by
Kelly Gendron
Series: Declan Brothers #3
Pub. Date: Jan. 22, 2016
Publisher: Self-Pub
Pages: 200
Format: eARC
Source: Book Enthusiast Promotions
My Rating:
Sultry Scale:
"Some guys call, some date, and some guys, they might even get married. But, sweetheart, I ain't any of those guys..." ~ Zeke Declan
Every girl in Galveston County knows about Zeke Declan's rules and has agreed to them or is considering them.
Rule #1 Don't call him. He'll call you.
Rule #4 Absolutely, no virgins.
When a couple friends talk me into going back to their hometown in the Bayou for the summer and challenge me to break "the best damn lay in Galveston County" along with every single one of his ridiculous rules, I'm confident that I can get the job done. I'm no stranger to men. I have five older brothers. I'm a teacher and I'm used to being around rebellious teenagers. However, Zeke Declan is definitely not someone that I could have prepared for. He's not a testosterone-fueled, immature boy. He's a confident, arousing, playful, and mind-melting man. But, behind that sexy charming smile, I know he's hiding a secret. And, in order to break him, I'm going to need to find out what it is...
Zeke is the final installment of the Declan Brothers series. I recommend that you read the books in order as there is quite a bit of overlap in the storyline. The series focuses on three brothers down in the Texas Bayou, and three girlfriends who are in town for the summer for the sole purpose of breaking the infamous Declan brothers.
Zeke is the youngest Declan brother, seen around the bayou as a ladies man with his list of rules for who is allowed in his bed. No virgins, no sleepovers, no second chances. We learn in this last book that this is all an act which Zeke is using to protect himself for his tortured past. However, Zeke's rules slowly start to be broken from the moment he meets a red-headed English teacher named Lurlene.
Lurlene has come to the bayou with her two best friends. Unlike Emmie and Rayna, Lurlene doesn't have a history in Galveston County, she is just along for the ride. Literally. She is tagging along to take care of the pesky problem of her virginity, and she has allowed her friends to talk her into losing it to the best lay in the bayou (aka Zeke Declan). However Lurlene quickly sees pasts Zeke's facade to the deeper, more intelligent, and damaged boy hiding behind the scores of women.
The romance in this story unfolded fairly nicely. I liked that Lurlene was not going to put up with Zeke's BS and allow him to push her away. Zeke's past really was heartbreaking, and I totally understood the issues he had with people getting close to him. Unfortunately this story seemed to pass by so fast that I was left wanting. The substance of the story was good; I just wanted more of it. There was also quite a bit of space used to introduce Lurlene's brothers, who are apparently going to be the focus of a new series. The brothers sound very interesting, so I hope those books are longer so that we get to spend more time with them.
I received an advanced copy of this book in exchange for an honest review.
View all my reviews
About the Author
Kelly's motto ~ "Bad boys, give 'em a little time and experience, and they will evolve into misbehaving men!" And what hot-blooded woman doesn't want a naughty, all grown up bad boy?
Kelly Gendron is the author of the TroubleMaker series, Breaking the Declan Brothers series, and a few other romantic suspense novels.
When she's not writing steamy, blush producing romances, she's out meeting new people while representing a group of reputable nursing facilities. You can find Kelly in a quiet suburb, somewhere between Buffalo and Niagara Falls. If you Google her, she'll pop up there too. And, please do find her. Kelly loves to hear from her readers, and meeting new people.
Giveaway
Declan Brothers