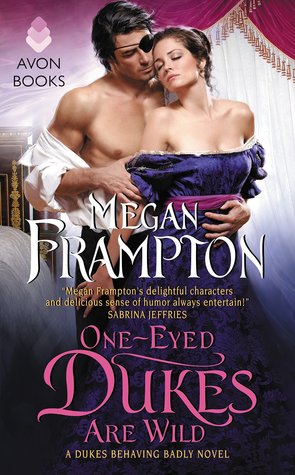 One-Eyed Dukes are Wild
by
Megan Frampton
Series: Dukes Behaving Badly #3
Pub. Date: Dec. 29, 2015
Publisher: Avon
Pages: 384
Format: eARC
Source: Edelweiss
My Rating:
Sultry Scale:
When does proper behavior deserve a deliciously improper reward?


The scandalously unmarried Lady Margaret Sawford is looking for adventure—and is always up for a challenge. Her curiosity is aroused by a dangerous-looking stranger with an eye patch, an ideal companion for the life she longs for, no matter what Society might say. So when the piratical gentleman turns out to be a duke—and just as boringly proper as any other nobleman—she can't help but incite him to walk on the wild side.
Well-heeled, well-mannered, and well beyond any interest in society's expectations, the Duke of Lasham is tired of being perfect. Margaret's lush beauty and gently laughing eyes are an irresistible temptation to embrace the imperfect—and her. But if a little misbehavior is appealing, unleashing his wild side is completely seductive—as long as the lovely Margaret is the object of his passion.
This series has exceed my expectations over the last year. Each installment has been entertaining, with endearing heroines and engaging heroes. I don't think I have rated any of them less than 4 stars, and I know one or two got 5 stars. So I highly recommend this series to historical romance fans. Megan Frampton is on my auto-buy list (for those times I am not lucky enough to snag an advanced readers' copy).
As you know from the earlier books, the series revolves around women who have been the subject of scandal or fallen on difficult times. Lady Margaret Sawford sits on the outer edge of propriety, having refused her parent's choice for a husband, and penning a serial under the nomme de plume "A Lady of Mystery." Only she is not so mysterious now, and she has revealed herself as the mysterious lady in question.
She appreciated alliteration, even in the throes of committing some shocking scandalous sin. Of some sort.
Having been cut off from her parents, Margaret gambles at the card table not only to support herself, but also to support her cause - helping less fortunate women. I really liked and identified with Margaret. I identified with her in her frustrations that women of the time had so little power. I admired that she was willing to eschew societal norms and make a go of it on her own. And I was so happy for her to find her HEA with someone at the upper echelons of the society who viewed her as scandalous.
Megan Frampton is good at writing heroes that are outside of the norm for their position in society... from the virginal un-earl-y hero in
When Good Earls Go Bad
to a one-eyed piratical and proper duke full of repressed emotion and socially awkward to the extreme. I just loved the Duke of Lasham. As Margaret points out early on,
she just appreciated a large gentleman much more than a smaller-sized one. There was just something so primally apealing about wide shoulders, great height, and a broad chest.
But it wasn't his dashing and piratical good looks that got to me... because he was about as far from a pirate as you could get. He was so damn endearing that my heart swelled. I totally got his social awkwardness - a lot of us bookish people can probably identify with this characteristic. I hated that he didn't know how to be happy, or do anything for himself. He was all about his great responsibilities to those around him. While it made him honorable and a good person - it also caused him to feel very alone. They say opposites attract, and that saying definitely proved true with Lash and Margaret.
I received an advanced copy of this book in exchange for an honest review.
View all my reviews
About the Author
Megan Frampton writes historical romance under her own name and romantic women's fiction as Megan Caldwell. She likes the color black, gin, dark-haired British men, and huge earrings, not in that order. She lives in Brooklyn, NY, with her husband and son.
Guest Post from Meghan
Thanks for having me here today!
The most important journey the Duke of Lasham makes during the course of One-Eyed Dukes are Wild is figuring out how to have fun. He's got a rakish appearance (eye patch, height, handsomeness, black hair and eyes), but his appearance is belied by his behavior, which is always proper.
Proper starts to feel boring when Lash meets Lady Margaret, a scandalous lady who does things as she wishes to, not the way people want her to.
So he asks her to help him in finding adventure.
Like Lasham, I am properly-behaved most of the time. I found it so much fun to explore what it would look like for a man in Lash's position to go a little wild. And of course I thought about what it would look like if I got the chance to go a little wild.
Here's my list of things that would be the most fun things to do if I went wild*:
Flirt with every handsome stranger I meet in the course of one day. Try to kiss at least one of them.
Go to a dance club by myself and dance all night.
Eat pie for breakfast.
Call in sick and read in bed all day without any guilt.
Buy a spendy bottle of wine and not share it with anyone.
*And I weren't a married mother of a certain age.
Okay, so my wild moments aren't all that risqué, but they do sound fun (to me).
What would you do?
Bambi: Oh dear. This is a dangerous question to ask someone with my imagination! I would crash the filming of Magic Mike XXL so I could touch Joe Manganiello and Channing Tatum. I would sneak into Buckingham Palace and ask the Queen if we might take tea. I would spend a year in Scotland and try to find a braw and bonnie Highlander looking for a wife. And I would try to find out what people really would do for a Klondike bar.
Thanks for spending some time with us today Meghan. I look forward to much more words from you in the future!
Giveaway