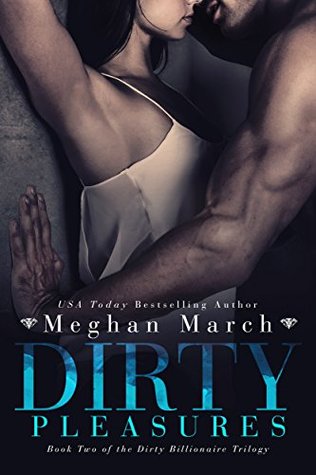 Dirty Pleasures
by
Meghan March
Series: Dirty Billionaire #2
Pub. Date: Dec. 29, 2015
Publisher: Self-Pub
Pages: 177
Format: eARC
Source: Rock Star PR
Challenges: Pervy Girl
My Rating:
Sultry Scale:
I did it. I married a billionaire.
My reasons are my own, but the last thing I expected was to feel owned.
I may have taken vows, but I'm still determined to be me.
Now his rules are taking over my world, but I'm not the kind of girl to just obey.
There's only one problem: I might actually be falling for him…
I have no idea how this marriage is going to go, but holding onto a piece of myself while succumbing to his dirty pleasures is shaping up to be the ride of a lifetime.
Dirty Pleasures is the second book in The Dirty Billionaire Trilogy. Dirty Together, the conclusion of this filthy trilogy, will release on 1/12/2016.
Dirty Pleasures picks up where
Dirty Billionaire
left off. When Creighton does show by the designated time that Holly needed to leave for Nashville, she takes off leaving nothing but a note saying "Goodbye Creighton." The story picks up with Holly flying coach back to Nashville and the tabloids speculating on marriage trouble in paradise.
So we all know that Crey has messed up and is going to have to chase after her to do some groveling. I was okay with that. I would have been ticked off that he forgot about me too - especially if I made it clear that something was very important to me. After the whirlwind of the first book where things were just getting going, I was looking forward to further character development in this book. I really wanted to know more about Creighton and wanted to get in his head and learn all his dark and dirty secrets. He no longer came off as a shallow douche in this book. He was more attentive to Holly and was chasing her around the tour doing things for her. As nice as that was, I am still waiting to fall in love with Crey. I don't know anything about his business or his past or his family. What's up with his uncle? Did this Annika bitch break him? I wanna know him! I hope we can get into his head and heart in the final installment,
Dirty Together
.
In my
review of Dirty Billionaire
, I thought the meat of the story would be happening in this book. This one was actually a quicker read and while there was less sex, I didn't feel like there was more substance. It seemed like we got the surface of the story, but not a lot of the deeper details I was hoping for. I would have been interested to read the conversation between Holly and her mom. I think that would have been an opportunity to hook me back into her character emotionally, but it faded to black.
I knew Holly was a runner after Dirty Billionaire, and I understood her reasons. After the fist book, I was on Team Holly more than Team Crey. However, I was hoping that her flight instincts would have deserted her once Crey came groveling. He showed up and did all the right things in this book... but Holly is still a runner. I didn't understand her panic or insecurities. So now I am firmly on Team Crey, and Holly will have to do a lot to redeem herself in Dirty Together.
I received an advanced copy of this book in exchange for an honest review. 3 stars / 5 flames.
About the Author
Meghan March is the author of contemporary and erotic romance novels. Meghan March has been known to wear camo face paint and tromp around in woods wearing mud-covered boots, all while sporting a perfect manicure. She's also impulsive, easily entertained, and absolutely unapologetic about the fact that she loves to read and write smut. Her past lives include slinging auto parts, selling lingerie, making custom jewelry, and practicing corporate law. Writing books about dirty talking alpha males and the strong, sassy women who bring them to their knees is by far the most fabulous job she's ever had. She loves hearing from her readers at meghanmarchbooks@gmail.com.
Find Meghan March Online