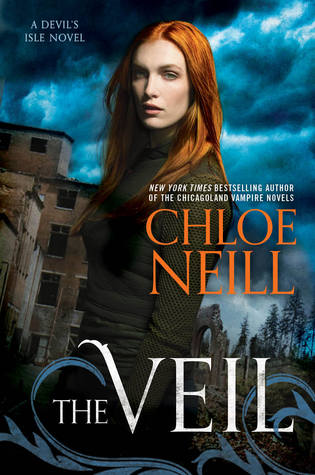 The Veil
by
Chloe Neill
Series: Devil's Isle #1
Pub. Date: Aug. 4 2015
Publisher: Tantor Audio
Narrator: Amy Landon
Length: 10 hrs 9 min
Format: Audiobook
Source: Overdrive / Library
Challenges: New to You (series)
My Rating:
Sultry Scale:
Seven years ago, the Veil that separates humanity from what lies beyond was torn apart, and New Orleans was engulfed in a supernatural war. Now, those with paranormal powers have been confined in a walled community that humans call the District. Those who live there call it Devil's Isle.
Claire Connolly is a good girl with a dangerous secret: she's a Sensitive, a human endowed with magic that seeped through the Veil. Claire knows that revealing her skills would mean being confined to Devil's Isle. Unfortunately, hiding her power has left her untrained and unfocused.
Liam Quinn knows from experience that magic makes monsters of the weak, and he has no time for a Sensitive with no control of her own strength. But when he sees Claire using her powers to save a human under attack—in full view of the French Quarter—Liam decides to bring her to Devil's Isle and the teacher she needs, even though getting her out of his way isn't the same as keeping her out of his head.
But when the Veil threatens to shatter completely, Claire and Liam must work together to stop it, or else New Orleans will burn…
Oh man, this book was very interesting for me. Living in New Orleans, I love to read books that are set here - but I hate it when they don't get things right. Chloe Neill did a good job with the world-building in her version of New Orleans. As depressing as the city was in this story, I was definitely able to picture everything she described.
The setting is post-war New Orleans. Magical war, that is. Now magic is outlawed and so many New Orleans traditions have been banished. No voodoo, no ghost tours, Marie Laveau or literary vampires. No beads or bright colors! Mardi Gras has been replaced with War Night, with a commemorative parade and paper throws. The power grid is spotty, and the Marigny has been turned into Devil's Isle - a containment area for paranormals and sensitives. It was very sad to think of New Orleans this way. However one thing that has remained constant is the sense of community. Residents of the Quarter still look out for one another, despite the magic monitors and containment agents roaming the city.
While we do have a main "couple" in this book, there was not enough romance in this installment to speak of. This is likely to be a slow burn relationship where the couple grows closer together into a comfortable relationship a few books in. I would like to see more chemistry and sexual tension between them, but in this first book Claire and Liam are just meeting and feeling each other out in the midst of a magical crisis. I loved Claire's store and the detail about the antiques and other treasures you can find on Royal Street. I liked that Liam elected to live within Devil's Isle, and I loved his grandmother. The family histories of all the characters was intriguing and very much southern. I liked all of the secondary characters thus far, particularly Malachi, the stoic angel.
I think the city in this series is going to be a character in itself. I was really more focused on it than I was our main characters. I think that people who live in New Orleans, or are familiar with the city and its history, will like this book. It's apparent that Chloe spent a lot of time here (or maybe she lived here at some point) because she was spot on with the layout of the city and surrounding areas. If you are less familiar with the City, you may not understand the significance of some of the areas, monuments and buildings, so that may affect your reading enjoyment.
View all my reviews
Devil's Isle