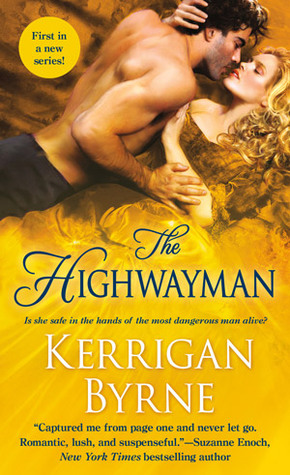 The Highwayman
by
Kerrigan Byrne
Series: Victorian Rebels #1
Pub. Date: Sept. 1, 2015
Publisher: St. Martin's Press
Pages: 384
Format: eBook
Source: Amazon
My Rating:
Sultry Scale:
They're rebels, scoundrels, and blackguards—dark, dashing men on the wrong side of the law. But for the women who love them, a hint of danger only makes the heart beat faster…
STEALING BEAUTY
Dorian Blackwell, the Blackheart of Ben More, is a ruthless villain. Scarred and hard-hearted, Dorian is one of London's wealthiest, most influential men who will stop at nothing to wreak vengeance on those who've wronged him…and will fight to the death to seize what he wants. The lovely, still innocent widow Farah Leigh Mackenzie is no exception—and soon Dorian whisks the beautiful lass away to his sanctuary in the wild Highlands…
COURTING DESIRE
But Farah is no one's puppet. She possesses a powerful secret—one that threatens her very life. When being held captive by Dorian proves to be the only way to keep Farah safe from those who would see her dead, Dorian makes Farah a scandalous proposition: marry him for protection in exchange for using her secret to help him exact revenge on his enemies. But what the Blackheart of Ben More never could have imagined is that Farah has terms of her own, igniting a tempestuous desire that consumes them both. Could it be that the woman he captured is the only one who can touch the black heart he'd long thought dead? 
Ah. This book. It is most definitely going to be one of my top books of 2016. I am having trouble putting into words just how much I loved this book. It's the best historical that I have read in a long time... even more so than
my 5 star reads from 2015
.
In my experience, Victorian-era romances are full of adventuresome heroines who still carry a little of the marriage obsession typical of the Regency-era romances. In other words, they are usually light reads, good stories, but nothing too serious. This book is nothing like that, it is wholly unique.
The Highwayman
is a deeply emotional, complex and moving read that will grab hold of your heart from the first chapter. While the story has a darker tone, you are reading with an eye to the light at the end of the tunnel.
We first meet a little boy known as Dougan the Demon ensconced at a Highland orphanage, where he meets precocious young girl named Farah Leigh. Dougan's Fairy is the first person to give him a kind touch, not meant to cause pain.



"Of course I'll love you, Dougan Mackenzie," she said easily. "Who else is going to?"




"Nobody," he said earnestly.
I fell in love with these two kids and wanted to wrap them up tight and show them all the love and caring they deserved. Unfortunately the cruel hands of fate intervene to tear the pair apart, and we don't learn what happened for 17 long years.
Dorian Blackwell, the Black Heart of Benmore, the most infamous criminal mastermind in recent history, has been in search of Dougan's Fairy for ten years. When he finally finds her working at Scotland Yard, he sets out to fulfill his vow to always keep Farah safe. With a secret past of her own, one which threatens her life, Dorian and his band of misfits (who were all in Newgate Prison together) must go to extreme measures to see Farah safe. This hero - he really got to me.
Kerrigan Byrne
's character development is spot on, and I wish we saw more of these complex characters in historical romance. Dorian was such an intricate and conflicted character, a powerful damaged hero with a dark sensuality that you just want to smother with love.
In this quiet, unfettered moment, she knew him, truly saw him for what he was. Hard, ruthless, tyrant. Abused, wounded boy. An empty heart full of promise, and a soul of shadows in need of sunlight.
For all that Dorian is dark and damaged, Farah is the light leading him out of the dark.
"My sweet Fairy." He exhaled on a painful breath. "You can't imagine darkness. You are the only light I've ever known."
Despite her secret past, the loss of Dougan, and her ensuing circumstances, Farah has survived and maintained her a warm, compassionate and caring nature. Everyone that knows Farah seems to love her, but that is because she treats everyone with solicitude whether they are cops, bohemians or prostitutes. The prison crew cannot believe their eyes when they finally see Dougan's ethereal Fairy with moonlight ringlets and silver eyes, whom they had started to believe was the romantic imaginings of a young troubled boy. They all want Fairy in their life and will go to great lengths to protect her. Farah, in turn, wanted to hang tight to this little bit of Dougan she has found after all these years.
Love is quite like reading, I expect. Once you know how, you can't ever imagine not doing it.
Dorian and Farah strike a tenuous bargain which turns into a deep and moving relationship. The couple faces many trials and tribulations along the way to their Happily Ever After, but I was so glad to travel the path with them. From Farah's innocence to Dorian's inability to bear touch, I was surprised at the level of intimacy and sexual tension that Byrne created. She really kept me on the edge, holding my breath and biting my lip waiting to see what the next touch would bring. But beyond the bedroom, I was swept up in the tidal wave of emotion that this relationship evoked. This couple is going into my favorites pile along with
Jamie and Claire
, and
Nathaniel and Elizabeth
.
This is my first read from Kerrigan Byrne, and now I want to go out and gorge myself on all her other books. In this book, she mastered the show vs. tell, and I was captivated by the story from the very beginning all the way to the end. I cannot wait for the rest of the books in the series, though I know I will be hard-pressed to love another hero as much as Dorian.
View all my reviews
Victorian Rebels