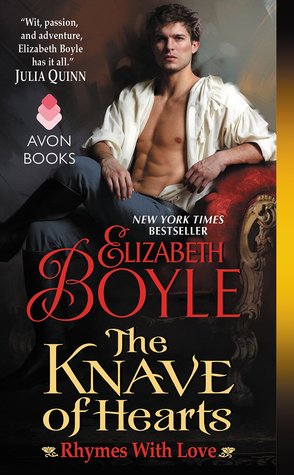 The Knave of Hearts
by
Elizabeth Boyle
Series: Rhymes with Love #5
Pub. Date: Jan. 26, 2016
Publisher: Avon
Pages: 384
Format: eARC
Source: Edelweiss
My Rating:
Sultry Scale:
In the fifth novel of the captivating Rhymes With Love series from New York Times bestselling author Elizabeth Boyle, a young woman's hopes of a match encounter a wickedly handsome complication . . .
Lavinia Tempest has been eagerly anticipating a spectacular season. But one disastrous pile-up on the Almack's dance floor derails all her plans. Add to that, the very stunning revelations about her mother's scandalous past have become the ton's latest on dits. Lavinia's future has gone from shining bright to blackest night in one misstep.
Alaster "Tuck" Rowland admits he's partly to blame for Lavinia's disastrous debut. But it's not guilt that compels him to restore her reputation. Rather, he's placed a wager that he can make Lavinia into one of the most sought-after ladies in London. Who better than an unrepentant rake to set society astir?
Tuck's motives are hardly noble. But in teaching the lovely Lavinia how to win any man she wants, he suddenly finds himself tangled in the last place he ever imagined: in love.


This is only my second read from the Rhymes With Loves series, having unknowingly started the series in the middle with
The Viscount Who Lived Down the Lane
(TVWLDTL). Luckily that previous book featured Louisa Tempest and Viscount Wakefield, who are featured heavily in this book as it happens somewhat contemporaneously with TVWLDTL. It's my understanding that most of the series can be read as standalones... however I would recommend reading TVWLDTL before this one since it involves twin sisters and concurrent events. Plus, TVWLDTL was super cute so you won't regret reading it at all.
Anywho, this installment of the series focuses on the other Tempest sister, Lavinia. The Tempest sisters are aptly named whirlwinds of bad luck and chaos. Grace, their name is not. Their tendency toward clumsy klutzy mishaps has earned them the cut direct from the bon ton on their very first outing of the season. Poor gels, I would have been on the outs right beside them with my tendency to trip over flat surfaces. However the scandal hits these girls even harder when people start bringing up their mother's past deeds, and two less-than-stellar gentlemen start a wager over the girls at White's. Lavinia was a likable heroine despite her penchant for the aforementioned unfortunate mishaps - I think those actually endeared who to me more as I could definitely relate. Lavinia (Vivi to her sister, and Livy to our hero) has striven to be a proper lady since she was about 10 years old and saw her mother running off with their dance instructor. She keeps lists of proper behavior and has read numerous etiquette books to gain knowledge of how to behave.
The knave of the story is Alastar "Tuck" Rowland, an untitled gentlemen who is the heir to his uncle's barony. Tuck is actually the match that set fire to the Tempest ruination, as he abandoned Lavinia in the midst of the dance floor, causing her to stumble and knock down other dancers like dominoes. Once Tuck became embroiled in the aforementioned wager, the terms required that he turn Lavinia into a diamond of the first water within a fortnight. Tuck has the reputation of being a knave and scoundrel, however Livy sees underneath the rumor and facade to the lonely brokenhearted man. His character was a good example of things not always being as they seem, and proof of why you should not listen to rumors. His past actions were definitely more honorable and altruistic than the ton bandied about. As a result, I quite liked him as a hero and rooted for him the whole book.
The attraction between Tuck and Livy unfolded steadily over the course of the book as they were forced to spend time with one another to make Livy the success that Tuck had wagered on. My favorite aspect was seeing Livy stop hiding behind her ideals of propriety and showing her true self - a stylish and intelligent young woman who could trounce everyone at cards. She was also willing to fight for her hero when his insecurities got in the way of their future.
I have really enjoyed the books that I have read of this series thus far, and I plan to go back and read the earlier installments as soon as I can fit them into my reading schedule. I will mention that I listened to TVWLDTL in audio, and it was just as enjoyable as reading it. The narrator did a fabulous job. So I may do the earlier installments in audio as well.
I received an advanced copy of this book from the publisher via Edelweiss in exchange for an honest review.
View all my reviews
About the Author
ELIZABETH BOYLE has always loved romance and now lives it each and every day by writing adventurous and passionate stories that readers from all around the world have described as "page-turners." Since her first book was published, she's seen her romances become New York Times and USA Today bestsellers and win the RWA RITA Award and the Romantic Times Reviewer's Choice awards. She resides in Seattle with her family, her garden and always growing collection of yarn. Readers can visit her on the Web at www.elizabethboyle.com.
Giveaway
Excerpt
For
a young lady who had made a study of all things proper, Miss Lavinia Tempest always seemed to find her fair share of mishaps.
The small fire at Foxgrove. The bunting incident of '08. And the rather infamous trampling at the Midsummer's Eve ball two years earlier.
Sir Roger still claimed he didn't miss those toes.
Of course, he was joking. He'd been very fond of those toes.
And worse, every time Lavinia attended a ball, soiree, or even just the weekly meetings of the Society for the Temperance and Improvement of Kempton, someone (usually Mrs. Bagley-Butterton) had to remind one and all of one of her more recent follies.
So when Lavinia entered the hallowed halls of Almack's, it was with, she vowed, a fresh start.
And so it seemed she was right. No one pulled their hem out of the way as she drew near for fear of it being trod upon or worse, the lace being completely ripped away. No one whispered behind their fan, or laid wagers as to who or what would be broken by the end of the evening.
She was, for the first time in her life, merely Miss Tempest, the daughter of the respected scholar, Sir Ambrose Tempest.
"It is just as I imagined," she said in awe as she and her sister Louisa handed over their vouchers. The perfect place to launch herself into the lofty reaches of London Society.
After all, she'd spent most of the afternoon planning out her evening (when she hadn't been reading her favorite Miss Darby novel).
First and foremost, she was wearing her new gown—a demure and respectable dress done in the latest stare of modest fashion. And while she had longed for brilliant sapphire silk that had been on the shelf at the modiste's shop, that color would never do for a debut such as this.
After all, the very rule was on her list:
Proper Rule No. 3. An unmarried lady always wears demure and respectable colors. Such as white. Or a pale yellow. Or an apple green, but only if the occasion permits.
So the blue silk could only be eyed from a distance, and she'd consigned herself to the muslin, for propriety was the order of the evening.
That is if she was to gain the highest obligation of every young lady making her debut Season in London:
Proper Rule No. 1. Marriage to a respectable, sensible, well-ordered gentleman is the order of business for every proper lady.
So she had the gown, entrance into the very heart of the Marriage Mart, and now all she had to do was finish the evening without incident.
But this was Lavinia Tempest, and that was easier said than done.
"No dancing," Louisa whispered to her as their chaperone, Lady Aveley, led them into the Wednesday evening crush. Her sister held out her hand, pinky extended, and Lavinia wrapped her own finger around it and the two sisters bound their promise together.
In Lavinia's defense, she had made her promise most faithfully with every intention of remaining safely at the side of the dance floor.
She had demurred when Lord Ardmore had asked. Begging off in a charming fashion that she was "too nervous to dance," this being her first visit to Almack's.
She'd even refused the very handsome and dashing Baron Rimswell—though she had been sorely tested for it was only a simple reel, but then one glance at Lord Rimswell's glossy boots and she'd thought better of it and remained firm to her promise.
But apparently no one had told Mr. Alaster Rowland. Now in his favor, Mr. Rowland's boots hadn't a fine gloss and he was rather squiffy from an indeterminate amount of brandy, so even if she had stepped on him, he was drunk enough that it would most likely dull the pain.
Rhymes with Love