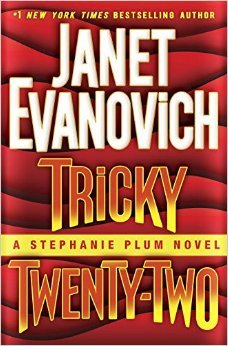 Tricky Twenty-Two
by Janet Evanovich
Series: Stephanie Plum #22
Pub. Date: Nov. 17, 2015
Publisher: Random House Audio
Narrator: Lorelei King
Length: 6 hrs 27 min
Format: Audiobook
Source: Audible
My Rating:
Sultry Scale:
Something big is brewing in Trenton, N.J., and it could blow at any minute.

Stephanie Plum might not be the world's greatest bounty hunter, but she knows when she's being played. Ken Globovic (aka Gobbles), hailed as the Supreme Exalted Zookeeper of the animal house known as Zeta fraternity, has been arrested for beating up the dean of students at Kiltman College. Gobbles has missed his court date and gone into hiding. People have seen him on campus, but no one will talk. Things just aren't adding up, and Stephanie can't shake the feeling that something funny is going on at the college - and it's not just Zeta fraternity pranks.

As much as people love Gobbles, they hate Doug Linken. When Linken is gunned down in his backyard it's good riddance, and the list of possible murder suspects is long. The only people who care about finding Linken's killer are Trenton cop Joe Morelli, who has been assigned the case, security expert Ranger, who was hired to protect Linken, and Stephanie, who has her eye on a cash prize and hopefully has some tricks up her sleeve.
Based on some of the reviews I read, it appears that I may be in the minority by saying that I don't want this series to end. I can't help it - the books are always a good pick me up and usually cause me to literally laugh out loud several times as I am listening/reading. I love Grandma Mazur, Lula, and am faithfully Team Ranger.
That being said, this book wasn't one of my favorites of the series. I listened to it as I was driving on a late night road trip. I felt like it was a bit of a c*ck tease. At the beginning of the book, Morelli dumps Stephanie and I was like WOO HOO - we are going back to Ranger! I think I really yelled that out in my car. But I was left unsatisfied by the few covert Ranger lip locks, even though he still played the hero and rescued Steph like he always does. This has nothing to do with the writing, but that I just want to see more Ranger action.
The slapstick suspense in this book was actually pretty good. It's all about a form of bioterrorism with references to past dirty deeds in other countries. I liked that aspect of the story. Stephanie's continued destruction of cars (in record time) was eye-rollingly bad. I think the car calamities have been overdone a bit. Grandma Mazur and Lula continue to provide hilarity. I loved that Grandma Mazur was catfishing with online dating sites. And it was fun for Stephanie's mom to get in on the action this time and show that she can still kick a$$.
Our characters are getting older now and it is reaching the point where they need to settle down. I mean, when you have Morelli going for a colonoscopy, he is losing some of that fantasy appeal. So I am torn between wanting Stephanie to pick a side, and going back to the books of old where there was a lot more competition between Team Ranger and Team Morelli. I would be happy if she would pick Joe as long as she sent Ranger down south to me.
Stephanie Plum Series