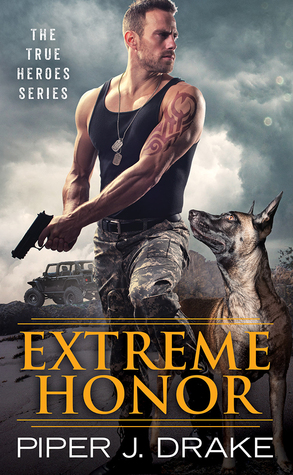 Extreme Honor
Series: True Heroes #1
Pub. Date: Jan. 26, 2016
Publisher: Forever / Grand Central
Pages: 384
Format: eARC
Source: NetGalley
Challenges: New to You
My Rating:
Sultry Scale:
Hot military heroes, the women who love them, and the dogs that always have their backs. EXTREME HONOR is the first book in a high adrenaline contemporary suspense series from Piper J. Drake.
HONOR, LOYALTY, LOVE
David Cruz is good at two things: war and training dogs. The ex-soldier's toughest case is Atlas, a Belgian Malinois whose handler died in combat. Nobody at Hope's Crossing kennel can break through the animal's grief. That is, until dog whisperer Evelyn Jones walks into the facility . . . and into Atlas's heart. David hates to admit that the curvy blonde's mesmerizing effect isn't limited to canines. But when Lyn's work with Atlas puts her in danger, David will do anything to protect her.
Lyn realizes that David's own battle scars make him uniquely qualified for his job as a trainer. Tough as nails yet gentle when it counts, he's gotten closer to Atlas than anyone else-and he's willing to put his hard-wired suspicion aside to let her do the same. But someone desperate enough to kill doesn't want Lyn working with Atlas. Now only teamwork, trust, and courage can save two troubled hearts and the dog who loves them both . . .


I fell in love within the first 10 pages of this book... it was the sweetest bit of instalove ever, and it was for a dog. I have been kicking around the idea of adopting a retired military or police dog for a while now, and this book really has me leaning closer to filling out the application. I loved everything about Atlas. His loyalty and love for his handler was heartwarming, and his dejection after losing his handler was heartwrenching. Whenever the book was focused on Atlas, I was invested in the story 100%.
However there was more to the story than Atlas' rehabilitation after losing his handler. There is a bit of romance, and a bit of mystery and suspense. It appears this new series from
Piper J. Drake
is going to focus on a group of vets who have come home and formed Hope's Crossing Kennels to train military and police dogs, and provide civilian dog obedience classes. Because the guys are the focal point, I will start with our hero - David Cruz. He was quite yummy and matches up with the cover model nicely (as did our doggie hero, Atlas). Cruz is a former para rescue jumper for the Air Force and is now working with dogs. I can't tell you much else about him - other than he doesn't fit in with his family and is somewhat estranged from them. I would have liked to see his character developed more, maybe with regard to his time in the military or what his actual experience training dogs involved.
The heroine of this first book is Evelyn Jones, stepdaughter of a very serious and stoic military man. Her chosen profession is dog rehabilitation and psychology. We have a little more backstory on the heroine, mainly focusing on her hard-to-please stepfather. I would have liked to know more about her mom and her professional history and qualifications. She was okay as a heroine - but her character was somewhat predictable. You know from the start with the way she wants to please the ol' stepdad that she is going to end up doing something stupid to hurt Cruz and/or Atlas. So of course when that happened, I couldn't really feel bad for the predicament she found herself in.
As I said above, I really enjoyed all of the aspects of the story that involved Atlas. However the other parts kinda fell apart for me, and the middle of the story lagged. I found myself zoning out a few times and had to go back and re-read pages. I think this may be the first book I have read where a dog was a central character, and I can't believe it. As a huge dog person, I definitely want to read more of these types of stories. There is a sneak peak into the next book in the series,
Ultimate Courage
, and it intrigued me. So I will most likely book up the next book when it comes out.
I received an advanced copy of this book from the publisher via NetGalley in exchange for an honest review.
View all my reviews
True Heroes