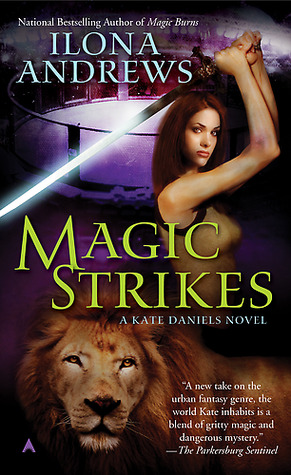 Magic Strikes
by
Ilona Andrews
Series: Kate Daniels #3
Pub. Date: Aug. 6, 2009
Publisher: Tantor Audio
Narrator: Renee Raudman
Length: 10 hrs 50 min
Format: Audiobook
Source: Library / Hoopla
My Rating:
Sultry Scale:
When magic strikes and Atlanta goes to pieces, it's a job for Kate Daniels…
Drafted into working for the Order of Merciful Aid, mercenary Kate Daniels has more paranormal problems than she knows what to do with these days. And in Atlanta, where magic comes and goes like the tide, that's saying a lot.
But when Kate's werewolf friend Derek is discovered nearly dead, she must confront her greatest challenge yet. As her investigation leads her to the Midnight Games—an invitation only, no holds barred, ultimate preternatural fighting tournament—she and Curran, the Lord of the Beasts, uncover a dark plot that may forever alter the face of Atlanta's shapeshifting community…
Warning - do not start this in audiobook unless it's first thing in the morning and you can listen all day. Otherwise, you will find yourself up at 4am still wide awake and not wanting to push that pause button! Now my brain is so foggy that I'm not sure I will be able to write a coherent review.
Even though this is the third time I have read/listened to this book, it is still entertaining to me and I pick up on things I missed the first two times, or that I have forgotten along the way. I really started to like Saiman as a character in this installment. His Aesir form and heritage is so interesting to me, and the "lost monster" characteristics were endearing. I would love to see Saiman get his own love interest and novella.
Derek, who I already loved from the earlier books, learns a hard life lesson in
Magic Strikes
. I always tear up right along with Kate when she sees what has happened to the beautiful werewolf boy. And we really see this spark start to show for Julie here as well. I can't wait to see how these interact in the rest of the series.
The games, of course, were barbaric and what you would probably expect from the "bad" side of shapeshifters, magic users, etc. But the characters, powers, and weapons were so freaking fascinating. I often found myself rewinding the story so I could hear again the description of some person, monster or event. Ilona and Gordon certainly have a vivid imagination.
And, of course, the best part - we see Kate and Curran being drawn together even more. I love love love the way he plays with her like a little mouse. Eating her pie, breaking in, teasing her - its great. And the slow burn of sexual tension between these two just puts you on the edge of your seat.
Thank heavens I have some long road trips this week so I can continue listening to this series while I drive!!!
View all my reviews
Kate Daniels Series