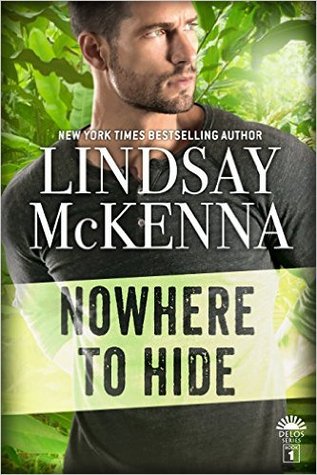 Nowhere to Hide
by
Lindsay McKenna
Series: Delos #1
Pub. Date: Oct. 13, 2015
Publisher: Blue Turtle Publishing
Pages: 278
Format: eARC
Source: Author
My Rating:
Sultry Scale:
Lia Cassidy left the Army scarred physically and emotionally after a vicious attack by two fellow soldiers. She turns to helping others, working at a Delos Home School Charity in Costa Rica that aids abused women and children. But when the deadly drug lord, La Arana, attacks the school, Lia finds herself on the run for her life. The only person she can trust is the ex-SEAL sent to protect her.
Cav Jordan is strong, honorable and gorgeous…and intrigued by Lia. He knows she has suffered pain in her past, and he is determined to break through her barriers and earn her trust. But as Cav slowly chips away at the walls Lia has built, ghosts from her past threaten to destroy their fragile relationship.
This is the first installment of
Lindsay McKenna
's new Delos series, which will be centered around Artemis Security, a personal security division of the huge Delos charity conglomerate. You will want to know who the players are with the Delos charity and Artemis alike, so I encourage you to at least read the Author's Note, but you can get more background by reading the prequel,
Last Chance
.
Lia Cassidy is a tortured heroine, self-conscious about being disfigured after a brutal attack that occurred when she was in the Army. Lia has just been through another harrowing attack ordered by the local drug lord, and Delos arranges for her to have personal security in the form of Cav Jordan. Cav is also a tortured hero, having grown up with an abusive drug-addicted father. This couple is drawn to one another from the first meeting, and there's nothing like danger to bring a couple closer together. Dilara and Robert, founders of Delos, fancy themselves matchmakers and have handpicked Cav to take care of Lia and bring her out of her shell. Their romance was very much a slow burn as both had to get over past hurts and learn to trust another person in a romantic situation.
I thought the suspense in this book (and in
Last Chance
) was done quite well. The situation with the drug lord didn't require you to suspend your belief, and all of the events seemed within the realm of possibility. I would have actually liked for the suspense/action to continue longer than it did because the story became much more slow-paced for the last quarter and I missed the adrenaline spikes.
The book was very dialogue-driven so I felt there was more telling than showing, if that makes sense. I think it would have been a good candidate for an alternating first-person POV instead of the third-person POV that we have. But that is a personal preference for me - I love to get in the characters heads. I did like reading about the spelunking - it has me wanting to go find some caves around me. But being as we are below sea-level here, that might not be the smartest idea.
I received an advanced copy of this book in exchange for an honest review.
View all my reviews
Lindsay McKenna lives her life as a risk taker, and it shines through the books she loves to write: romance, adventure and suspense. She started writing at age thirteen and continues to hone her writing skills to this day. She sold her first romance novel in 1981. The rest is history.
Because she went into the military, this experience became the backbone of her writing—she is credited with writing the first military romance novel (Captive of Fate, 1983, Silhouette Special Edition) and has created a thriving sub-genre within the romance field! As a New York Times Best Selling author, she has sold 23 million books and in 32 foreign languages in her career thus far. Her many experiences in the U.S. Navy are backdrop for her understanding of the military in general, and also her very successful Morgan's Mercenaries, which is an ongoing series in Silhouette to this day! Forty-five books strong!
Lindsay has gone Indie in 2015 and has created a new family saga on par with Morgan's Mercenaries It is known as the DELOS SERIES. There will be paperback and eBooks created under Blue Turtle Publishing, her company for her fans. Readers who love Morgan and his family are bound to fall in love with the Culver family. Delos is romantic suspense, which Lindsay is well known for. It took her five years to create and bring DELOS to her readers. It was worth the wait, but we'll let you decide that.
Lindsay loves to hear from her readers and loves to know what they'd like to see her write next. Stay up with the latest on the Delos Series here. Please visit her Web site at www.lindsaymckenna.com. And be sure to sign up for her free quarterly newsletter. It contains exclusive content found nowhere else on the Net. Plus, giveaways and other surprises, to her loyal and faithful subscribers!
a Rafflecopter giveaway
When Dilara placed Lia

'

s hand on the yet-to-be-introduced man with the thoughtful hazel eyes, she felt her heart beat a little faster. She knew he was military, even though he wore civilian clothes. His training almost dripped off him; she could see it in his sharp glance and his effort to appear casual, but she wasn

'

t fooled

—she could feel the tension radiating from him.
"This is Cavanaugh Jordan," Dilara said, patting his broad shoulder. "Because Robert and I want you safe, we called in a security contractor who

'

s already worked for Robert—several times, in fact, on different missions. We hired Cav to be your bodyguard for now, Lia. Neither of us feels you

'

re safe at La Fortuna right now, and until we can figure out what

'

s going on and know you

'

ll be safe again, Cav will be at your side like a shadow."
Lia lifted her head and met Cal

'

s flat, emotionless stare. "Oh," was all she managed. Then, turning to Dilara, "But I

'

ve never had a security detail before."
"You will now," Robert said. "We

'

re not losing you, too."
Lia felt her heart speed up. The man sitting across from her gave nothing away, and yet she could sense his reaction to her. Automatically, she touched her scar on her cheek, then looked away from him and forced herself to focus on Robert, who was looking grim.
"The police said they sent you their investigation reports, sir?" Cav spoke up now.
"Yes," Robert said, pointing at the Major

'

s laptop. "We have everything on their ongoing investigation. But we want boots on the ground Intel, which," looking now at Lia, "only you can provide us."
Lia knew she would be driving down to San Jos

é

to give them an eyewitness report. But why five days after it happened? She still felt like ground meat exposed to air, and could barely check her own emotions.
"Where do you want me to start?" she asked the general.
"Most important is why did it happen," Robert said. "Do you have any ideas?"
"
I think I do, sir, but I can
'
t prove it. I
'
ve already told my suspicions to the Costa Rican police detectives.
"
She opened her hands.
"
Dante Medina, La Ara
ñ
a, is the regional drug lord in the northern highlands. He has a villa near La Fortuna, up in the jungle.
'
The Spider
'
is a regional drug lord. He and his men grow marijuana and cocaine in the jungle. He
'
s married to a woman named Suelo, who
'
s about twenty-eight. They have three sons
—
two, four, and eight, and he keeps two mistresses at a villa in La Fortuna, Pilar, seventeen, and Marta, fifteen. These girls are sex slaves, closely guarded by his soldiers at the La Fortuna villa.
"
Lia
'
s voice dropped into a painful whisper.
"
His third mistress, Lupe Zavala, eighteen, escaped and ran to us for help, which we gave her. She flew out of the country and back to her country, Guatemala.
"
Lia forced herself to look at the General. "Lupe came to us five days earlier than the attack. She begged Maria Gonzalez and Sophia Casales, the teachers, to take her in. I wasn

'

t there at the time, but when I returned from my errands the teachers had taken Lupe in. She was a mess, terribly beaten up, and the teachers cared for her in their homes. I went and got the doctor from Tabacon Resort, who was kind enough to come and care for Lupe."
"Had this happened before?" Robert asked.
Lia shook her head, keeping her hand covering her left cheek. She could feel the security contractor

'

s gaze, like heat, on her face and inwardly, she cringed, knowing that he must be disgusted, like every other stranger who first saw her face. "

No. Oh, we

'

d run into Lupe and the other two mistresses at the grocery store in La Fortuna, but they always had a guard with them, so we never really stopped to talk to them." Grimacing, Lia added, "All three of us knew that these women were prisoners at Medina

'

s villa. I mean, it was local common knowledge."
"Why weren

'

t the police called long before this happened?" Dilara asked.
Lia looked up at her. "Because everyone is deathly afraid of Medina, Dilara. You don

'

t know how dangerous he is. He

'

s killed before, and he won

'

t hesitate to get his revenge if someone crosses him. People live in absolute fear of him."
Delos Series