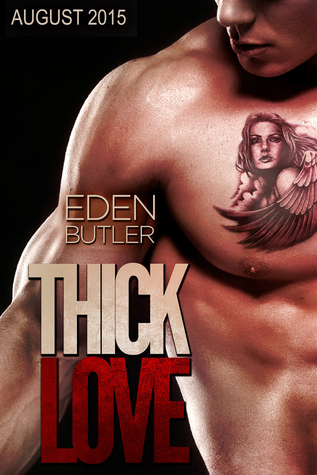 Thick Love
by
Eden Butler
Series: Thin Love #2
Pub. Date: Sept. 1, 2015
Publisher: Self-Pub
Pages: 343
Format: eARC
Source: Author
My Rating:
Sultry Scale:
He doesn't ask their names.
He doesn't deserve to know them.
Ransom Riley Hale's friends think his life is charmed: first string as a freshman on a championship-winning college football team. A father with two Super Bowl rings. A mother with platinum albums and multiple Grammies under her belt. But that brilliant shine on the surface hides the darkness beneath; it's all Ransom has ever known.
Despite the shadows he walked in, once there was a blinding light fracturing the darkness. It brought the promise of hope and happiness. He'd been careless, filled with pride and stupidity and lost that light. Ripped it from the world.
Now, the shadows are dimming again. Aly King surges into his life threatening to pull him from the darkness. She is everything Ransom can never be again. Her light feels too warm, promises him that there is more waiting for him beyond the shadows.
But the shadows are relentless, resurfacing when he thinks he is safe, and Ransom knows he must keep Aly from them too before he pulls her down into the darkness with him.
For me, Eden Butler excels at writing new adult characters. If more characters were written like hers, I would read more of this genre. Her characters are mature and well-reasoned and don't make me feel like an old broad reading about young kids. And let me tell ya, I don't need anything else to make me feel older!
Now, this is the second installment of the series, but is not really the continuation of the original story,
Thin Love
. At first, I wasn't sure how I would feel about that.
Thin Love
was one of my 5 star reads for 2015, and I was a little worried that a sequel (so to speak) would pale in comparison. I mean, Keira and Kona were like an epic love that I just couldn't get enough of.
I knew my love was so thick, that what I felt for her then was something I didn't just want, but something I needed. Even when I pushed her away, even when I was so scared of what she did to me, even when I spent years laying in bed at night wondering if that feeling would ever go away, I knew no one would give me that. There was only ever her. No one does love like Keira.
But of course I didn't need to worry, and I realized really quick once I started reading that while the epic couple were still around, they were not going to overshadow Ransom and Aly. Instead we still got to see the loving and supportive and playful side of the parents, while focusing on the coming of age of the son. Unfortunately, not long after the big wedding in
My Beloved
, something tragic happens in Ransom's life and he has been wandering through life, lost, ever since.
"Ransom, you can't live like this." "Who the hell said I'm living?"
Ransom's back story is heartbreaking. You don't find out exactly what happened right away, so to avoid spoilers, I'm not going to discuss it here. But Eden does such a good job at character development, that you feel the heartache and love right along with the characters. The level of detail and inner monologue really let you get to know the players on a deeper level, and I absolutely love that when I'm reading. So I went on this roller coaster ride along with Ransom and Aly, and I still haven't come down from the ride.
Aly was an admirable heroine. She's a survivor, strong and persevering. Her passion for dance lept off the page much like Keira's music did in
Thin Love
. I loved her determination to help Ransom find his way back from the darkness, and that she didn't throw some immature hissy fit when he wasn't all she needed him to be. She never gave up on him. And this is what I mean about Eden's new adults... while these characters were 20 y/o and younger, their youth and immaturity does not overpower you while you are reading. Yes, there is angst - but it's a mature angst. (Is that even a thing? Can angst be mature? Well Eden makes her angst mature and that's a good thing... particularly for us readers over 30.)
Love was louder than logic.
I enjoyed riding along for this epic story with Ransom and Aly. It's a heavy tale of love, loss, friendship and family. And my smutty little heart wouldn't be happy without the sexual tension so thick you could cut it with a knife. Those dancing scenes were the sizzle that kept me on edge until our couple smoked up my kindle screen.
Your mouth makes me think the worst... best... filthy things.
There was also some character crossover in this book from
Shadows and Lies
. So if you have started that series, you will probably remember Timber, Missy and Summerland's Burlesque Review. As always, I love these stories set in New Orleans and Eden always make me feel like I could see one of these characters walking down the street here.
Now, the epilogue. I admit, that at first I was stompin' mad. It was just so unexpected and out of left field that I was totally blindsided. And yes I ranted and railed for a bit. But now I have let myself calm down and I'm not mad any more. The story isn't over. That's a good thing. I am looking forward to spending more time with Ransom and Aly... seeing how they have grown and changed and matured. So I take back all my curses that flew in my moment of shock. Sorry Eden!
I received an advanced copy of this book in exchange for an honest review.
View all my reviews
About the Author
Eden Butler
is an editor and writer of Romance, Suspense, Mystery and SciFi and Fantasy novels and the nine-times great-granddaughter of an honest-to-God English pirate. This could explain her affinity for rule breaking and rum. Her debut novel, a New Adult, Contemporary (no cliffie) Romance, "Chasing Serenity" launched in October 2013 and quickly became an Amazon bestseller.
When she's not writing or wondering about her possibly Jack Sparrowesque ancestor, Eden edits, reads and spends way too much time watching rugby, Doctor Who and New Orleans Saints football.
She is currently imprisoned under teenage rule alongside her husband in southeast Louisiana.
Please send help.
You can find Eden on
GoodReads
,
Facebook
and
Twitter
.
Giveaway
Thin Love Series