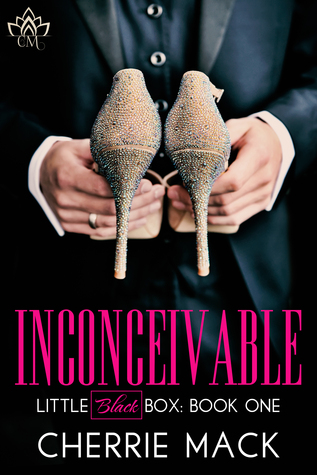 Inconceivable
by
Cherrie Mack
Series: Little Black Box #1
Pub. Date: Sept. 2, 2015
Publisher: Self-Pub
Pages: 138
Format: eBook
Source: Kindle Unlimited
My Rating:
Sultry Scale:
When Prince Charming comes looking for the woman who stole his heart at a Manhattan shoe store, he instead finds her stepsister, Allie. Allie doesn't leave the best impression with the handsome Zach Brady, who quickly dismisses her as the maid. But an unusual fairy godmother with bulging biceps, long hair, and a cool demeanor has plans for her. Can Allie keep herself from falling for the wrong man and convince him to help her snag Zach? This duo quickly learns that sometimes if the shoe fits, the pair could be all wrong.
I got sucked in by the cover of this book. Gorgeous shoes. Dude in a suit and the hot pink text just pops off the page. Unfortunately, it kinda fizzled for me once I opened the book.
I just couldn't connect with the characters. In fact, I didn't even like any of them, except maybe Angelo/Victor. I thought this was going to be a Cinderella story where Allie was going to be a tortured heroine and we would feel sorry for her and yada yada. But I couldn't stand Allie... and I get that the author wrote her that way on purpose. But still. Allie was a whiny, judgmental, spoiled shrew who loved to wallow in her misery and wanted everyone to say "oh you poor baby." I couldn't take it.
Then we have Adrienne (the stepsister) and Trudy (the stepmother character) who are both painted as ridiculous, rich, nasty, self-absorbed and just plain mean. Adrienne was painted in a bad light at first, but then we get more info later that I guess is supposed to explain her behavior. I'm sorry, her daddy issues did not excuse her making Allie clean the apartment and whatever else.
Angelo/Victor was decent enough. I liked his character, but I felt he was weak at times. Allie treated him like crap, and he put up with all her whining and "woe is me" antics. And he didn't shun her for it. He must have nerves of steel. I didn't really get the whole fairy godmother aspect of his character... there could have been more detail about how this aspect of the story worked or came into play. It wasn't flushed out enough for me to get caught up in the fantasy. There was one sex scene that was okay... but it was a mix of steamy and clinical that threw me off. If you are using slang words for body parts, it reads weird to throw a "vagina" and "penis" in there - kinda ruins the sexy moment.
For such a short book, it seemed very long. I think because the majority of the book was filled with Allie's incessant self-imposed misery, it just made it seem longer. There is a redemption of the characters before the end, but the redemption was rushed and played false to me. I didn't get that true "come to Jesus" moment from Allie or Adrienne. And I still saw Allie start to backslide after she was supposed to have her epiphany. So I just didn't buy it.
The blurb for the next installment of the series actually sounds more interesting... assuming the tortured hero (a wounded soldier) is developed sufficiently to create an emotional connection. While I was not a fan of Adrienne in this book, I did like her better than Allie by the end. So I may give the next book a shot just to see if this was a fluke that I didn't like.