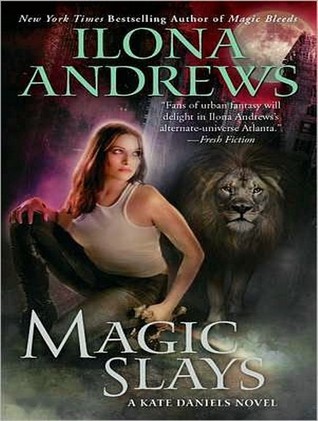 Magic Slays
by
Ilona Andrews
Series: Kate Danies #5
Pub. Date: June 8, 2011
Publisher: Tantor Audio
Narrator: Renee Raudman
Length: 13 hrs 7 min
Format: Audiobook
Source: Hoopla / Library
My Rating:
Sultry Scale:
Plagued by a war between magic and technology, Atlanta has never been so deadly. Good thing Kate Daniels is on the job.
Kate Daniels may have quit the Order of Merciful Aid, but she's still knee-deep in paranormal problems. Or she would be if she could get someone to hire her. Starting her own business has been more challenging than she thought it would be now that the Order is disparaging her good name, and many potential clients are afraid of getting on the bad side of the Beast Lord, who just happens to be Kate's mate.
So when Atlanta's premier Master of the Dead calls to ask for help with a vampire on the loose, Kate leaps at the chance of some paying work. Turns out this is not an isolated incident, and Kate needs to get to the bottom of it fast, or the city and everyone dear to her might pay the ultimate price.
Coming off the most interesting villain to date in
Magic Bleeds
, Kate has quit the Order of Merciful Aid and opened her own investigation company, Cutting Edge... which is floundering. Kate helps out with a runaway vampire and shortly after gets her first case from the Red Guard - to find something they have lost. Kate's investigation uncovers a huge plot to kill all magical beings with the equivalent of a magic-sucking nuclear bomb.
The villains in this book are an anti-magical hate group known as The Lighthouse Keepers. So we have an undertone of social issues in this book, which is somewhat a different take from the biblical references we got with Kate's aunt in the last installment. Like most hate groups, the Lighthouse Keepers don't make a lot of sense. They are jealous of what other people have and seem too lazy to work... so their solution is to kill all the magic users because its not fair that they (the hatemongers) were not born with magic. Kate and Curran bring the magical community together to fight against the Lighthouse Keepers.
While this installment was not my favorite of the series, it is still a really good story with a lot of good action and some romance. I absolutely loved the humor we got with the witches and Volves (sp?) going at each other. We got some Russian mythology here centering around these groups, particularly the head witch, Baba Yaga. And I cannot say enough how great the narrator is on these books. Renee Raudman is great at characterization, accents, inflection and keeping your auditory interest in the reading.
I continue to enjoy all of the secondary characters in these books, we get one or new characters per book it seems so there is always someone new to watch grow or tug on your heart strings. This time we have a new Bouda boy, Ascanio, who has to learn very quickly that he is not as tough as he acts. Then of course we have our staples in Julie, Derek and Andrea.
Curran and Kate's relationship continues to grow without overpowering the story. But one of my favorite aspects of this installment is that we learn so much more about Kate's history and parentage. This is one of the series that I hope continues well into the future because I know I will be very sad when it ends.
View all my reviews
Kate Daniels Series