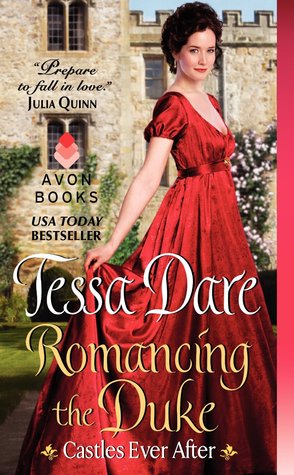 Romancing the Duke
by
Tessa Dare
Series: Castles Ever After #1
Pub. Date: Jan. 28, 2014
Publisher: Harper Audio / Avon
Narrator: Carmen Rose
Length: 8 hrs 59 min
Format: Audiobook
My Rating:
Sultry Scale:
In the first in Tessa Dare's captivating Castles Ever After series, a mysterious fortress is the setting for an unlikely love . . .
As the daughter of a famed author, Isolde Ophelia Goodnight grew up on tales of brave knights and fair maidens. She never doubted romance would be in her future, too. The storybooks offered endless possibilities.
And as she grew older, Izzy crossed them off. One by one by one.
Ugly duckling turned swan?
Abducted by handsome highwayman?
Rescued from drudgery by charming prince?
No, no, and… Heh.
Now Izzy's given up yearning for romance. She'll settle for a roof over her head. What fairy tales are left over for an impoverished twenty-six year-old woman who's never even been kissed?
This one.
I cannot believe this is the first time I am reading
Tessa Dare
. Why didn't anyone tell me how fabulously she writes? I laughed, I cried, I got mad... this book sucked me right in and made me part of the story.
The heroine of this story is Izzy Goodnight, who is also the subject of the renowned Goodnight Tales known throughout London to be written by Izzy's father. With everyone thinking of Izzy as a big-eyed innocent young girl, its no wonder that she has never had a suitor. But all is not well in Izzy's fairytale... she finds herself destitute after her father dies unexpectedly and leaves everything to his closest male heir, a horrible cousin who delights in throwing Izzy out of her home. Izzy's sad situation immediately drew me into the story and a connection with her character. Beyond that, she was a lot of fun and had an endearing way about her. And I have to sympathize with any girl who, like me, looks like she has a brown octopus on her head. The struggle is real. Curly girls unite.
However, my true love of this story was Ransom, Duke of Rothbury. My absolute favorite type of hero... the dark, damaged, broody kind with a tragic story of his own. Ransom has been hiding away in a moldering castle, known as Ghastly Castle, since he was grievously injured and blinded
(view spoiler)
[in a duel with his former betrothed's common lover. (hide spoiler)]
Oh man, Ransom stole my heart. I loved him and all of his gruff ways and wickedly delicious seductions. He really could do no wrong in my eyes and, towards the end, I thought they were treating him horribly. They just didn't understand that he was trying to do the right thing, and he just needed to be loved and squeezed and taken care of forever. (Just like George. Brownie points for anyone who gets the reference.)
The romance between Izzy and Ransom developed nicely. Izzy just wanted to care for someone, but had never really been cared for herself. In turn, Ransom did things that showed he cared for Izzy, even though he denied his true motivations to preserve his gruff and broody reputation. Although I would have liked to see a little more of the fraud and competency matter... particularly whether Ransom pursued legal action against those who were stealing/embezzling from him. That was a nice secondary storyline that added a little something to the story.
Narrator Carmen Rose also did a wonderful job on this audiobook. She added great inflection and personality to her narration, which really brought Random and Izzy to life. Even Duncan, the valet, was represented with an interesting accent and engaging manner. A+ performance.
View all my reviews
Castles Ever After