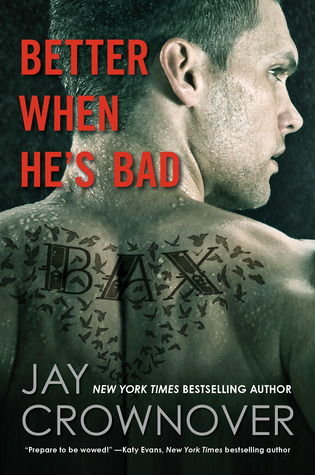 Better When He's Bad
by
Jay Crownover
Series: Welcome to the Point #1
Pub. Date: June 17, 2014
Publisher: Harper Audio
Narrator: Leland King, Mia Barron
Length: 10 hrs 42 min
Format: Audiobook
Source: Audible
My Rating:
Sultry Scale:
There's a difference between a bad boy and a boy who's bad . . . meet Shane Baxter.
Sexy, dark, and dangerous, Bax isn't just from the wrong side of the tracks, he is the wrong side of the tracks. A criminal, a thug, and a brawler, he's the master of bad choices, until one such choice landed him in prison for five years. Now Bax is out and looking for answers, and he doesn't care what he has to do or who he has to hurt to get them. But there's a new player in the game, and she's much too innocent, much too soft…and standing directly in his way.
Dovie Pryce knows all about living a hard life and the tough choices that come with it. She's always tried to be good, tried to help others, and tried not to let the darkness pull her down. But the streets are fighting back, things have gone from bad to worse, and the only person who can help her is the scariest, sexiest, most complicated ex-con The Point has ever produced.
Bax terrifies her, but it doesn't take Dovie long to realize that some boys are just better when they're bad.
Ah, I am kicking myself again for not writing a review as soon as I read the book. Here I am 3 weeks later trying to remember all the things that made me love this book. I do remember that this book started me on a bad boy kick, but none of my follow-up reads quite matched up to Bax and Dove.
Shane "Bax" Baxter is a boy that grew up in the hood. He is not just a bad boy, one of those posers with a rebellious side. Bax is a BAD boy. Trouble with a capital T. The kind of antihero that you lust after, but are scared to tangle with because you don't want to be taken down with him. (I am not speaking of the murdering and hurting people type of bad... but the wrong side of the tracks boosting cars type of bad.) A product of his upbringing, Bax survives the only way he knows how. And he is good at surviving, good at being BAD. Bax is unapologetic for his method of survival - he embraces that side of himself and no one better stand in his way. But the flip side to Bax is that when he does care about someone, he puts his whole heart into it. And about the only people he cares about in the whole world are Dovie and Race. But will Dovie be able to handle Bax's kind of love? Because Bax's love is the most encompassing and altruistic kind out there. Can she accept the ultimate sacrifice?
Then we meet Dovie Pryce, who is as Good as Bax is Bad. Having a similar background to Bax, Dovie is looking for a way out. After the death of her (horrible) mother, she is forced to survive some hellish foster homes before being rescued by her older half brother. But Dovie proves that you are not always a product of your circumstances. Now living in The Point, Dovie keeps her had down, works, and goes to school with aspirations of social work in her future. She volunteers at a group home for troubled youth. She has the loyalty of her friends and neighbors. So when Bax comes into her life, and she sees the cold dead danger in his eyes, she knows that he is not a boy to mess around with. But Dovie quickly learns while being Bad is sometimes oh-so Good.
I snorted. "There was nothing in those eyes, Carmen."




"Oh, honey, if you look close enough, everything is in those eyes. That's why they're so dark. They are full. Full of every secret, every promise, and every temptation that can make a good girl do really bad things and enjoy every second of it. Watch yourself, Dove. This could get ugly for you really fast."
I really liked this couple together. I loved seeing the softer side that Dovie brought out of Bax, but I also loved seeing his hard protective side when it came to those he cared about. The suspense of the book enthralled me - it was gritty and raw and emotional - and it continued to build in such a way that you knew you were in for something explosive before the end. I wouldn't say the tone of the book was overly dark - it had more of a somber gray feel to it, like the sun doesn't shine quite as bright in The Point. The narrators of the audiobook did a great job at keeping my attention and maintaining the grit and tone for the story. Leland King did an exceptional job at bringing Bax's character to life.
I am looking forward to seeing where Jay Crownover takes us with the rest of this series. I will be visiting The Point again very soon.
View all my reviews
Welcome to the Point