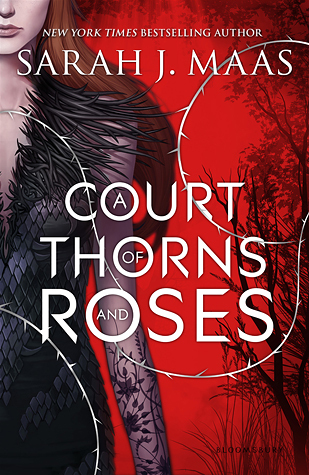 A Court of Thorns and Roses
by
Sarah J. Maas
Series: A Court of Thorns and Roses #1
Pub. Date: May 5, 2015
Publisher: Recorded Books
Narrator: Jennifer Ikeda
Length: 16 hrs 17 min
Format: Audiobook
Source: Audible
My Rating:
Sultry Scale:
A thrilling, seductive new series from New York Timesbestselling author Sarah J. Maas, blending Beauty and the Beastwith faerie lore.
When nineteen-year-old huntress Feyre kills a wolf in the woods, a beast-like creature arrives to demand retribution for it. Dragged to a treacherous magical land she only knows about from legends, Feyre discovers that her captor is not an animal, but Tamlin—one of the lethal, immortal faeries who once ruled their world.
As she dwells on his estate, her feelings for Tamlin transform from icy hostility into a fiery passion that burns through every lie and warning she's been told about the beautiful, dangerous world of the Fae. But an ancient, wicked shadow grows over the faerie lands, and Feyre must find a way to stop it... or doom Tamlin—and his world—forever.
Perfect for fans of Kristin Cashore and George R. R. Martin, this first book in a sexy and action-packed new series is impossible to put down!
I have been hearing chatter about this book for a while - but I was initially under the impression that it was a young adult book. So I kept putting it off because I have to be in a certain mood for a young adult book. So for those of you who may have been steered a little wrong on the Y/A front - let me reassure you that this isn't a Y/A read. The heroine is on the young side, but I wouldn't classify it as Y/A.
A Court of Thorns and Roses
is a retelling of Beauty and the Beast with a special faery-tale twist, borrowing aspects from the Scottish ballad,
Tam Lin
. The Fae in this tale live in Prythia which was separated from the human realm after a great war. If you have read other Fae stories, you will note that Prythia is not much different from Faery. The landscape is just as dangerous, each court has a king or queen, and plots abound around every corner. Humans live in fear of the Fae crossing the wall as they believe all Fae to be murderous slavers.
The story is told solely from our heroine, Feyre's point of view. Feyre lives in a hovel with her two sisters and crippled father near the Prythian wall. She is the caretaker of her family, who have fallen on hard times. Her sisters are spoiled and flighty, and her father has given up hope. So Feyre, the youngest and smallest goes into the forest to hunt so her family doesn't starve. It is on one of these forays that Feyre kills a Fae/Wolf, thereby breaking the centuries old treaty that ended the war. When the Beast comes for her to satisfy the treaty, Feyre must choose whether to live out her life in Prythia, or be slaughtered on the spot. For all that Feyre was only nineteen, she was a mature heroine. I suppose being the only responsible one in the family makes a girl grow up real quick. She was a likable heroine, even if she was too slow to figure things out. She could also a bit prickly, stubborn, and quick to get herself into situations that could have been avoided.
Our beastly fae is Tamlin, shapeshifter and High Lord of the Spring Court. Tamlin has been living under a curse, a blight in Prythia that is threatening the land and life as the fae know it. Forced into a mask and with his lands being encroached upon, Tamlin brings this prickly female into his Court where he promises his protection despite her killing Anders, one of his friends (the wolf/fae). I liked Tamlin throughout the story, more so than Feyre. Once the plot conflict is revealed, you will understand his behavior and reasons therefore.
There are some interesting secondary characters, particularly Lucien and Rhysand. Lucien has a sad story, not that any of the fae seem to have happy ones. But Tamlin and Lucien had particularly horrible family lives, and Lucien's is still around to torment him. I'm not sure how I feel about Rhysand yet - I don't know what his motivations are and he didn't work to endear himself to anyone. I hope we are not going to have a love triangle situation in the future... but I don't want to say too much about where I think the series is going just yet.
I enjoyed this story - it had a bit of the Game of Thrones feel, but with some added romance and not quite as much doom, gloom and dying. However some of my enjoyment was lost in the narration. The narrator chose to use a dreamlike sing song cadence when dialogue was not in play, and it made me sleepy, made it easy to zone out, and just plain did not hold my attention. I can't tell you how many times I had to rewind the audio, which throws you out of the story. So I believe I will be reading the next installment of the series if the narrator stays the same.
View all my reviews
A Court of Thorns and Roses