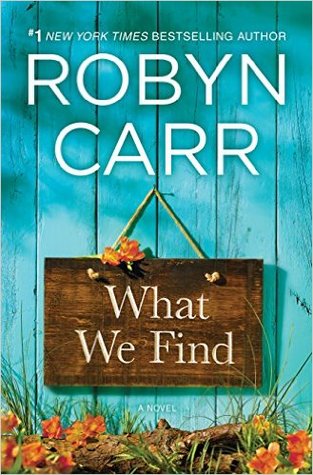 What We Find
by
Robyn Carr
Series: Sullivan's Crossing #1
Pub. Date: April 5, 2016
Publisher: Mira
Pages: 352
Format: eARC
Source: Edelweiss
My Rating:
Sultry Scale:
Join Robyn Carr, #1
New York Times
bestselling author of the
Virgin River
and
Thunder Point
series, as she explores the healing powers of rural Colorado in a brand-new story of fresh starts, budding relationships and one woman's journey to finding the happiness she's long been missing
Between the urban bustle of Denver and the high-stress environment of a career in neurosurgery, Maggie Sullivan has hit a wall. When an emergency, high-risk procedure results in the death of a teenager, Maggie finds herself in the middle of a malpractice lawsuit—and experiencing levels of anxiety she's never faced before. It's in this desperate moment that Maggie's boyfriend decides he can't handle her emotional baggage, and she's left alone, exhausted and unsure of what her future holds. One thing is certain, though: she needs to slow down before she burns out completely, and the best place she can think to do that is Sullivan's Crossing.
Named for Maggie's great-grandfather, the land and charming general store at the crossroads of the Colorado and the Continental Divide trails have been passed down through the generations and now belong to Maggie's estranged father, Sully. Though raised by her mother and stepfather after her parents divorced, Maggie has always adored Sully—despite his hands-off approach to fatherhood. When she shows up unannounced in Sullivan's Crossing, he welcomes her with opens arms, and she relishes the opportunity to rebuild their relationship.
But when Sully has a sudden heart attack, Maggie's world is rocked once again. Consumed with his care, she's relieved to find that Cal Jones, a quiet and serious-looking camper, has been taking over many of Sully's responsibilities as he recuperates. Still, Maggie is suspicious of this mysterious man's eagerness to help—until she finds out the true reason for his deliberate isolation.
Though Cal and Maggie each struggle with loss and loneliness, the time they spend together gives Maggie hope for something brighter just on the horizon…if only they can learn to find peace and healing—and perhaps love—with each other.
I have been experiencing burn out with contemporary romance this year. I think my biggest problem was the prevalence of new adult heroines... immature girls with lots of drama that made me feel old. So I thought I would try some new authors, those who write more mature female leads who are ensconced in their professional lives. I figured I would have more in common with these types of heroines.
Unfortunately, this book didn't do it for me. It started out okay. Maggie is a successful neurosurgeon who has experienced a personal tragedy, and is being sued for malpractice. But as the story got going, I really felt like I was watching one of those movies that comes on the Lifetime Channel. (They really aren't my thing either.) Overall, I found Maggie to be boring and I lost my connection to her very quickly.
I did like the hero, California Jones, lawyer and widower. The story about his wife was sad and moving, and he seemed like a genuinely good guy. I didn't find anything about him to be exciting though. Even the intimacy between the couple seemed more clinical than steamy or romantic. However, I totally lost respect for his character when he started talking about legal procedure because he was just flat out wrong. (Discussed below)
The story meandered along at a snail's pace, except for a small blip of excitement around 35%. I wanted something to happen to spike my interest, but it didn't and I ended up losing interest all together. By 76%, I realized I was skimming pretty often and I decided to stop reading.
I think the final nail in the coffin for me was the incorrect legal information that I kept coming across. For example, Cal is telling Maggie that she should not testify... but this is a civil trial, she does not have a choice. Either party in a civil case can be compelled to testify. Then a couple paragraphs later, Cal tells Maggie that if he were the plaintiff's attorney, he would use all her prior lawsuits against her. But a jury does not get to consider prior bad acts in a malpractice suit. There were a number of these mistakes, and they are the reason I usually stay away from books that cross my professional arena. I can't help picking apart glaring mistakes to legal practice and procedure... and its pretty clear that this book has criminal procedure confused with civil procedure. They are quite different.
Otherwise, I am not giving up on this author. I have heard good things about her Virgin River series, so I think I will give it a shot and see if another story piques my interest.
I received an advanced copy of this book in exchange for an honest review.
Status Updates as I was reading:
04/04
32.0%
"This book makes me feel like I'm watching a Lifetime movie."
04/04
35.0%
"Well, I didn't see that coming. Woke the story up a bit."
04/04
47.0%
"I cannot believe she said that to Sully! She's 37 y/o for chrissakes! Time to get over it."
04/04
63.0%
"She is a defendant in a civil trial. She cannot refuse to testify so why is he advising her against it? Big legal error... makes me ranty."
04/04
63.0%
"Ugh, another one. The jury does not get to consider prior bad acts (previous lawsuits) in a malpractice trial. Simple rules of evidence here."
04/04
69.0%
"I'm not sure why a medmal defendant would have a counterclaim against the parents of the deceased... I don't see a basis for her to sue them. So I'm thinking the Counterclaim is being confused with the Answer."
04/04
70.0%
"This is one of the reasons I shy away from books with legal themes. I pick them apart."
04/04
74.0%
"Of course they can appeal the dismissal of their suit! Gah!"
04/04
marked as:

abandoned
View all my reviews