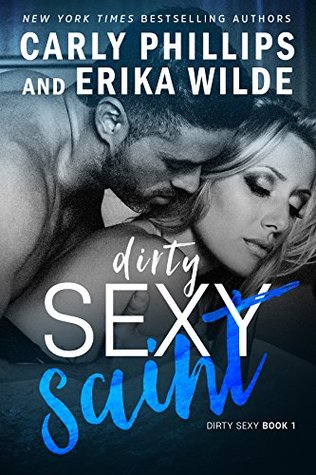 Dirty Sexy Saint
by Carly Phillips & Erika Wilde
Series: Dirty Sexy #1
Pub. Date: Jan. 19, 2016
Publisher: Self-Pub
Pages: 268
Format: eARC
Source: Rock Star PR
My Rating:
Sultry Scale:
New York Times bestselling authors Carly Phillips and Erika Wilde bring you a dirty, sexy, smoking hot SERIES featuring three bad boy brothers bonded by shocking secrets and their damaged past. Sinful, addicting, and unapologetically alpha, these men are every woman's erotic daydream ... And your ultimate dirty fantasy.
Are you ready to get Dirty Sexy with a Saint?
Clay Kincaid knows he's more a sinner than a saint. Especially when it comes to women. With a rough and damaged past that has left him jaded, he doesn't do committed relationships. But he does like sex—the hotter and harder, the better. He likes it fast and filthy, which is why he refuses to even touch someone as sweet and guileless as Samantha Jamieson. Until he discovers that she likes it just as down and dirty as he does. Let the sinning begin . . .
This was one of the better contemporary romances that I have read lately. The Dirty Sexy series features three brothers with tortured pasts... the responsible one, the bad boy, and the straitlaced cop. The brothers all appear to be alpha males and I don't think any of them will have trouble steaming up your kindle screen.
Dirty Sexy Saint is the story of Clay Kincaid, known as Saint Clay. Clay is the oldest brother and basically raised his younger siblings because they were neglected and mistreated by their prostitute/addict mother and her string of low-life thugs. Clay was nicknamed Saint for his tendency to take in strays and overwhelming desire to help people. I loved him to pieces. He was a bit broken and broody, but he had a big soft heart and the perfect amount of dominance in the bedroom. I loved that he took care of his brothers, and Katrina, and Samantha, and basically anyone that he thought he could help. There definitely aren't many guys like him today outside of books.
I was a little worried about the heroine at first, Samantha Jamieson. Being a rich socialite, there was a good chance she could have been one of those spoiled annoying heroines. Luckily, Samantha was all sweetness and humility. Deciding to stand up to her parents and rejecting an arranged marriage, she is cut off financially and leaves the house with nothing more than the clothes on her back. It was a stroke of luck that she wound up in Clay's bar, because she was definitely ripe for the picking if she would have come across some scoundrel with ill-intent. I liked her character as well, but I didn't have as strong a connection to her. I give her props for wanting to make her own life and not just live off her parents and trust fund.
I have been have trouble with contemporary romance lately - I seem to be a bit burnt out and am finding more heroines annoying that ever before. So I am glad to have found one that didn't push those buttons for me, and I'm looking forward to reading the rest of the series.
I received a free copy of this book in exchange for an honest review.
View all my reviews
Dirty Sexy Series