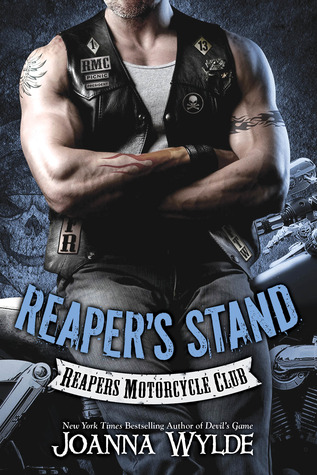 Reaper's Stand
by
Joanna Wylde
Series: Reapers MC #4
Pub. Date: Oct. 17, 2014
Publisher: Tantor Audio
Narrator: Tatiana Sokolov, Sean Crisden
Length: 10 hrs 17 min
Format: Audiobook
Source: Hoopla
My Rating:
Sultry Scale:
As Reapers Motorcycle Club president, Reese "Picnic" Hayes has given his entire life to the club. After losing his wife, he knew he'd never love another woman. And with two daughters to raise and a club to manage, that was just fine with him. These days, Reese keeps his relationships free and easy—he definitely doesn't want to waste his time on a glorified cleaning lady like London Armstrong.
Too bad he's completely obsessed with her.
Besides running her own business, London's got her junkie cousin's daughter to look after—a more reckless than average eighteen-year-old. Sure she's attracted to the Reapers' president, but she's not stupid. Reese Hayes is a criminal and a thug. But when her young cousin gets caught up with a ruthless drug cartel, Reese might be the only man who can help her. Now London has to make the hardest decision of her life—how far will she go to save her family?
I have been meaning to catch up on this series for a while, so I was stoked when I saw some of the books on my Hoopla app in audio. I like to listen while I get read for and drive to work in the morning. So this review will be for the audiobook version of
Reaper's Stand
.
Well
Joanna Wylde
certainly knows how to hook you in with that prologue! Reaper's Stand opens with our heroine, London Armstrong, building up her courage to kill the president of the Reapers MC, Reese "Picnic" Hayes. We can tell from the context that there was some sort of friendly or romantic relationship between the pair, so what in the world led up to this?
London is somewhat of a suburban mom-type, she is uptight and responsible and kinda looks down her nose at the Reapers. However that does not stop her from taking their cold hard cash for the cleaning contracts her cleaning business holds for various Reapers' locations. I liked London, even though she was stuffy and uptight. She was a good person, put in a bad situation. And it turns out all she needed to pull that stick outta her a$$ was a certain biker president. That being said, I really wish she would have trusted in Picnic and the Reapers a little more.
Picnic is all things alphahole biker. Since his wife died, Picnic has vowed not to take another old lady. Instead he has a steady stream of sweetbutts in his lap, which continues even after he starts lusting after his cleaning lady. And even despite his a$$hole behavior, I still loved Reese. I obviously have a penchant for the alphahole... which is why I am probably still single in real life. Alphaholes are great to read about, but they don't translate to great boyfriends in real life. Le sigh.
The Reapers are still battling the cartel along with the Devil Jacks and Silver Bastards, and things come to a head in this book. The suspense, drama and action in these books is always goods... and so is the rockin' hot sex! Dirty, raw and gritty, just like you hope to get in these biker books. The next book in line moves on to the Silver Bastards series and I'm excited to start it.
A note on the narration - it didn't work great for a biker book. The male narrator made the bikers sound more like bankers, so that ruined the fantasy a bit. The narrator changes for Silver Bastards, so I'm gonna give it a shot in audio before I switch to reading.
View all my reviews
Reapers / Silver Valley Series