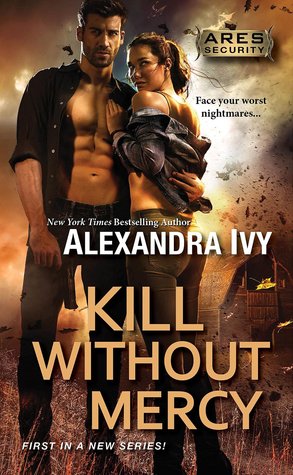 Kill Without Mercy
by
Alexandra Ivy
Series: ARES Security #1
Pub. Date: Dec. 29, 2015
Publisher: Zebra / Kensington
Pages: 352
Format: eARC
Source: NetGalley
My Rating:
Sultry Scale:
From the hellhole of a Taliban prison to sweet freedom, five brave military heroes have made it home—and they're ready to take on the civilian missions no one else can. Individually they're intimidating. Together they're invincible. They're the men of ARES Security.
Rafe Vargas is only in Newton, Iowa, to clear out his late grandfather's small house. As the covert ops specialist for ARES Security, he's eager to get back to his new life in Texas. But when he crosses paths with Annie White, a haunted beauty with skeletons in her closet, he can't just walk away—not when she's clearly in danger…
There's a mysterious serial killer on the loose with a link to Annie's dark past. And the closer he gets, the deeper Rafe's instinct to protect kicks in. But even with his considerable skill, Annie's courage, and his ARES buddies behind him, the slaying won't stop. Now it's only a matter of time before Annie's next—unless they can unravel a history of deadly lies that won't be buried.
ARES Security promises to be a great new romantic suspense series with engaging characters and top notch suspense. The series is going to follow four former military men who have become brothers through shared tragedy. Rafe, Hauk, Teagan and Max were POWs held together in a Taliban prison. Having trouble adjusting to civilian life, the four decided on this joint business venture in Houston as badass security operatives.

So Kill Without Mercy is Rafe's story. Rafe is described as the glue that holds the group together, and he admits that he has a superman complex and wants to save everyone. Rafe was a great hero. While he was a badass, he was also also extremely caring and understanding of our heroine and his brothers.

When Rafe comes across our damsel in distress, Annie, he immediately feels that protective instinct. As the daughter of a serial killer, Annie has her own tortured past and understandably has a hard time trusting people. So when the killing starts up again, Annie knows she has to do something, particularly because she is having visions of the murders. I liked Annie - she didn't tick any of the annoying heroine boxes for me. I sympathized with her past, understood all the actions she took, and couldn't fault any of them. She listened to Rafe when he was trying to keep her safe. I felt like her character was developed more fully than his, and I didn't have trouble connecting with her as a heroine.

The suspense in the story was great. The story focuses a little less on the romance to follow the plot of tracking the serial killer, the Newton Slayer. While the culprit was a bit predictable, that did not detract from the story and there was a good plot twist thrown in to complicate things. Most of all, though, I absolutley loved the bond shared between the four men of ARES. I think I liked the brothers' bond more than the romance! I would have liked to know a little more about their backstory, but that may come out as the series progresses. I know I will enjoy seeing each of the brothers find their HEA, but I think my favorite is going to be Teagan. Something about him just struck a chord with me.

I received an advanced copy of this book from the publisher in exchange for an honest review.


View all my reviews