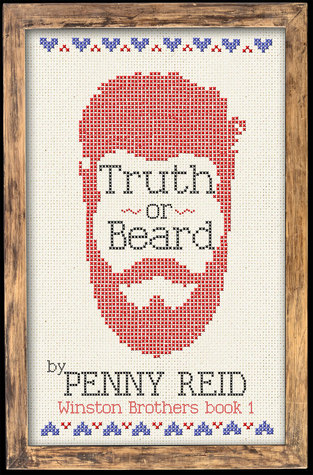 Truth or Beard
by
Penny Reid
Series: Winston Brothers #1
Pub. Date: Nov. 12, 2015
Publisher: Cipher-Naught
Narrators: Joy Nash, Chris Brinkley
Length: 13 hrs 19 min
Format: Audiobook
Source: Audible
My Rating:
Sultry Scale:
Beards, brothers, and bikers! Oh my!
Identical twins Beau and Duane Winston might share the same devastatingly handsome face, but where Beau is outgoing and sociable, Duane is broody and reserved. This is why Jessica James, recent college graduate and perpetual level headed good girl, has been in naïve and unhealthy infatuation with Beau Winston for most of her life. His friendly smiles make her tongue-tied and weak-kneed, and she's never been able to move beyond her childhood crush. Whereas Duane and Jessica have always been adversaries. She can't stand him, and she's pretty sure he can't stand the sight of her…
But after a case of mistaken identity, Jessica finds herself in a massive confusion kerfuffle. Jessica James has spent her whole life paralyzed by the fantasy of Beau and her assumptions of Duane's disdain; therefore she's unprepared for the reality that is Duane's insatiable interest, as well as his hot hands and hot mouth and hotter looks. Not helping Jessica's muddled mind and good girl sensibilities, Duane seems to have gotten himself in trouble with the local biker gang.
Certainly, Beau's magic spell is broken. Yet when Jessica finds herself drawn to the man who was always her adversary, now more dangerous than ever, how much of her level-headed heart is she willing to risk?
Everyone in Green Valley, Tennessee knows that the six bearded Winston brothers have been imbued with an unfair share of charm and charisma… and are prone to mischief.
Much like its cover,
Truth or Beard
is a quirky, fun and memorable story set in small town East Tennessee near the Smoky Mountains. As a former Tennessean who lived in the area for a time, this story made me so very nostalgic. I listened to this book in audio and let me tell you,
Joy Nash
is a fabulous narrator. She had the southern accent, inflections and mannerisms down pat. She may live in California now, but surely this girl has to have some southern roots. I actually wished she would have narrated the whole book as I preferred her voices, even for the male characters. She did narrate
Beauty and the Mustache
, which is the book where the Winston family originates. I have not listened to that one, but it has been moved up my TBL list for my next road trip.
As far as the actual story - it was great! Our heroine is Jessica James (southern pronunciation = Jeska), a math nerd who has just come back to Green Valley, TN to teach calculus for a few years to save up enough money to travel the world. Jessica's grand plan does not leave any room for romantic entanglements. She is home living with her parents for a limited time and that's it - she's off to quench her wanderlust in all the exotic locales she read about in National Geographic (that is until her mama took her subscription away for containing dirty pictures!). Jessica was a great heroine - she made me laugh and reminded me of a lot of my friends from high school... particularly when she was saying things (to herself) like "Oh Mah Gawd, I am a Cah-reeper!"
Our hero and the first Winston brother of the series is Duane (Duh-wayne), twin brother to Beau. The brothers names are so over-the-top country that you will laugh just hearing them: Jethro, Roscoe, Cletus, Beau, Duane and Billy. Beau is the uber-charismatic twin that Jessica thinks she has had a crush on her whole life. Duane is the broody quiet twin that was more likely to put a toad in her backpack. I loved Duane right from the start, when he uses a case of mistaken identity to get our heroine in a compromising position that spirals out of control in 10 seconds flat. I loved his conversations trying to woo "Jeska" and convince her that they suited. He really made me miss and appreciate the good ol' earnest country boy - the ones I didn't see the 10 years I lived in Florida. Maybe I will find some now that I'm in Louisiana.
The story had its sweet moments, steamy interludes, and slapstick comedic relief. I am really looking forward to the rest of the series. I don't know yet who my favorite Winston brother is going to be. I think Cletus will be the most unique - he seems to be borderline Asperger's or just too intelligent to relate to the rest of the country folk on their level. Penny Reid did a wonderful job at bringing the characters and landscape to life. She really made me feel like I was a part of the story. If you are listening to the audio (which I highly encourage), stay tuned at the end for an interview with Penny where she describes how she visits her family in this area of Tennessee every year and draws inspiration for the story. I met Penny earlier this year the RT Roundup in Houston - I only wish I had read the book before then so I could have played the fangirl. Oh well, something to look forward to next time!
Penny Reid & Bambi
Winston Brothers