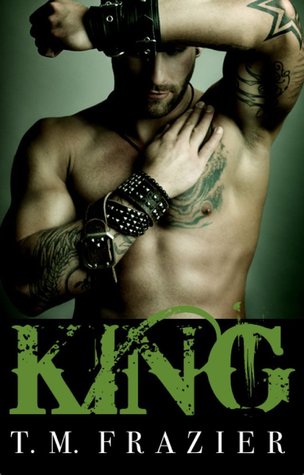 King
by
T.M. Frazier
Series: King #1
Pub. Date: Sept. 16, 2015
Publisher: Tantor Audio
Narrator: Molly Glenmore, Rob Shapiro
Length: 8 hrs 39 min
Format: Audiobook
Source: Hoopla
My Rating:
Sultry Scale:
Homeless. Hungry. Desperate.
Doe has no memories of who she is or where she comes from.
A notorious career criminal just released from prison, King is someone you don't want to cross unless you're prepared to pay him back in blood, sweat, pu$$y or a combination of all three.
King's future hangs in the balance. Doe's is written in her past. When they come crashing together, they will have to learn that sometimes in order to hold on, you have to first let go.
Warning:
This book contains graphic violence, consensual and nonconsensual sex, drug use, abuse, and other taboo subjects and adult subject matter. Although originally slated to be a standalone, KING is now a two part series.
I don't know how to review this book. I am finding myself with a lack of words. I liked it. I liked King. I liked Doe. I liked Preppy and Bear. I liked the mystery of Doe's past and I liked the dark and twisty plot conflicts. I did not like that fakakta cliffhanger. (I wouldn't be so mad about it if I could fit the second book into my calendar right now... but I can't, I am overextended for November.)
I listened to it in audio, so I think I wasn't quite as connected with the story as I would have been if I was reading. But I have to say that Rob Shapiro (narrator) did a wonderful job in his portrayal of Preppy. I wasn't as taken with his portrayal of King though for some reason. The voice was off for me. Molly Glenmore also did a great job narrating as Doe.
I love the dark, raw and gritty romances. I met T.M. Frazier at a signing earlier this year and she was super cool, but I had yet to read her book. She certainly does a good job at the raw and gritty. I'm hooked. This book gave me reading anxiety right in the middle of my chest. UPDATE! As I am sitting here writing this review, I cannot let that cliffhanger go. So I just grabbed
Tyrant
from Audible. I will listen as I get ready for work in the morning!
Anywho, back to the King. Doe's story, both past and present, was heartbreaking. She was truly like a broken bird that you want to hold in your hand and help heal. Frazier did a great job at creating an emotional connection with Doe and, as a result, I was in her corner every step of the way. When things go down with Isaac and the Senator... man, it was gut-wrenching. Phew. Luckily I was not listening in public at those points.
King is a tattooed bad boy. Do I really need to say anything else? I have a weakness for tatted up bad boy alphas. He is fresh out of prison and he is broken and broody. Prison changed him, he doesn't want to party anymore, he has other priorities. I wanted him with one hand and wanted to strangle him with the other. I knew nothing good was going to happen with his plan.
The secondary characters in this story were great. Preppy was hilarious, and I am a little in love with Bear. I loved Grace and the Granny Grow House Squad.
That ending though... Gah! I was totally caught off guard. Well played, Ms. Frazier. You got me. I didn't know there was a cliffhanger until it happened. I yelled so loud I scared my dogs half to death.
View all my reviews
King Series