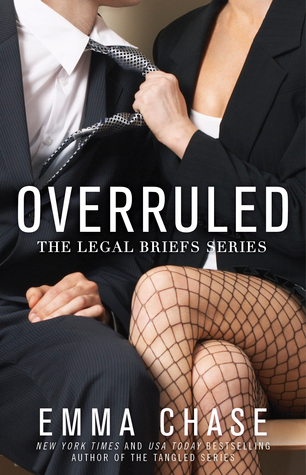 Overruled
by
Emma Chase
Series: The Legal Briefs #1
Pub. Date: Apr. 28, 2015
Publisher: Simon & Schuster Audio
Narrators: Jason Carpenter, Charlotte Penfield
Length: 8 hrs 6 min
Format: Audiobook
Source: Audible
My Rating:
Sultry Scale:
Emma Chase, New York Times bestselling author of the Tangled Series, returns with the first installment of the Legal Briefs Series.
As a DC defense attorney, Stanton Shaw keeps his head cool, his questions sharp, and his arguments irrefutable. They don't call him the Jury Charmer for nothing – with his southern drawl, disarming smile and captivating green eyes – he's a hard man to say no to. Men want to be him and women want to be thoroughly cross examined by him.
Stanton's a man with a plan. And for a while, life was going according to that plan.
Until the day he receives an invitation to the wedding of his high school sweetheart and mother of his beloved ten-year old daughter. Jenny is getting married — to someone who isn't him.
That's definitely not part of the plan.
Sofia Santos is a city raised, no-nonsense litigator who plans to become the most revered criminal defense attorney in the country. She doesn't have time for relationships or distractions.
But when Stanton, her "friend with mind-blowing benefits" begs for help, she finds herself out of her element, out of her depth, and obviously out of her mind. Because she agrees to go with him – to The-Middle-Of-Nowhere, Mississippi – to do all she can to help Stanton win back the woman he loves.
Her head tells her she's crazy...and her heart says something else entirely.
What happens when you mix a one stop-light town, two professional arguers, a homecoming queen, four big brothers, some Jimmy Dean sausage and a gun-toting Nana?
The Bourbon flows, passions rise and even the best laid plans get overruled by the desires of the heart.
So I met Emma Chase earlier this year at RT Roundup, and got to sit in on one of her panels and listen to a little more about her and her writing style. She was super sweet and I resolved to read one of her books as soon as possible as she relayed that her niche was writing romance from the male point of view. I always like having the male POV in my books - I like to get into the heads of my heroes. So I pulled this book off Audible during my last road trip when I needed something to make the drive go faster.
I didn't read the blurb for the book before reading. I knew the series featured attorneys, which always makes me a little hesitant (occupational hazard). Whenever I am reading a book about fellow attorneys, I tend to pick them apart. However, either Ms. Chase really did her research or she has experience in the legal field because she did really well getting into the aspects of the law practice. This made me super happy b/c I more often see mistakes or unrealistic ideals in legal fiction... but this one was pretty accurate.
As for the romance - I had mixed feelings about it. Don't get me wrong - I couldn't stop listening and was totally absorbed in the story. I had a good connection to the female characters. Without reading the blurb, I actually thought Jenny was going to be my heroine so I was so disappointed when I realized that was not going to be the case. I was then set not to like Sofia because I felt like she was encroaching, but I ended up empathizing with her through the story. I did feel like she was allowing herself to be used for a good part of the book though, and I didn't like that. I wanted her to stand up for herself and tell Stanton where to stick it.
As for our hero, Stanton, I didn't like him. One thing about having so much of the guy's POV is that you realize how much guys suck. I didn't really want to hear about his womanizing and cheating - no matter how much I originally thought I wanted it. He came off as a huge douche canoe by being so self-absorbed and being a total user. He used Jenny and he used Sofia. It was so bad that he was never redeemed for me. I was hoping that both girls would ditch his ass and become besties.
That being said, I still really liked the story! The fact is that there are guys like Stanton out there, and the portrayal of his character was accurate (disheartening as it is). The one aspect that I could say is unrealistic with this story is the hotness factor for all of the male attorneys. In this profession, I have seen little to no lawyers that I would consider "hot". This was a common lament at my law school - why are there no hot guys in this profession? I can't think of a single one that I encountered at my law school. Once I started practicing, I have run into one here and there, but if I ever saw three of them together I would probably fall out in a dead faint. This factor was so lacking in my real life experience that I can't even buy into the fantasy anymore.
I am looking forward to the rest of this series to see how I feel about that prevalent male POV. Will I like it - or will it make me think that guys just plain suck?
Bambi & Emma Chase
The Legal Briefs