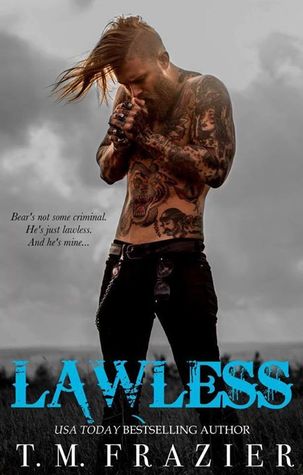 Lawless
by
T.M. Frazier
Series: King #3
Pub. Date: Dec. 6, 2015
Publisher: Self-Pub
Pages: 231
Format: eARC
Source: Author
Thia is prim and proper.
Bear is leather and lawless.
It will never work between them.
It's a lie they almost believe...
Gah! She did it to me again! I mean, I figured there would be a cliffhanger since I saw
Soulless
on Amazon today. But still, the cliffhanger got me... then the freaking teaser for Soulless got me all over again! Bang. Bang. Bang. This is me. Banging. My. Head. On. My. Keyboard. I am having a love-hate relationship with
T.M. Frazier
's cliffhangers. Sigh.
So I have been eagerly anticipating this book because I just loved Bear when he was trying to get with Doe/Rae... wishing it was ME. (Ha, I made a punny.) And now we learn his real name - ABEL! I love it. I like Abel so much more than Bear. I don't even know how he got the road name Bear... if we were told before it went right over my head. Anyway, so Abel suffered some heart-wrenching cringe-inducing torture in
Tyrant
. It was very hard to listen to (as I was doing the audiobook), so I knew the trauma from that event was gonna have Abel fecked in the head for quite a while. And he was, he was drowning himself in whiskey, drugs and whores. As he so eloquently put it:
I knew everything about being a biker. I didn't know shit about being a man.
Our heroine is Thia (short for Cynthia, but not ever Cindy), a very young (just turned 18) and somewhat naive heroine. I won't go into how her and Bear are connected because that was a cute aspect of the book and you should discover it for yourself. I was a bit worried at this heroine's age... young naive heroines have been making me feel so old lately. But never fear, this one didn't have me counting my gray hairs. Probably because she has been living life with parents who have checked out and has been working three jobs to keep a roof over their head and the lights on. So while she may be sexually naive, she was well-versed in the sucky part of adult life - namely working and paying bills.
So Abel and Thia reconnect (obviously), and I just need to stick an interlude in here. I got a little vocal at one aspect of the book (besides the cliffhanger) and that was the utter lack of thought to any kind of protection or contraception when our newly-18-year-old heroine is bumping uglies with our 28-year-old biker manwhore who was just drowning himself in skanky poontang a few chapters back. Eeeeuuuuwww. Not just because I don't know if his bathing in whiskey could kill those germs... but I also did not want to see our just-out-of-highschool naive virgin popping out biker bear cubs. There. I have played the part of responsible adult and cautioned all those with a v-card (or not) to Wrap. It. Up. And if you are allergic to latex and you find out in a very inopportune way - condoms come in polyurethane now! You will want to keep those in your wallet because guys are CLUELESS. Whoops. Pardon my ramble. You never know what will trigger a memory thought.
Crotch cooties aside, T.M. Frazier is a master at the dark and gritty. Sometimes its even a little too dark and gritty for me. There is only so much backdoor violation that I can take. But no matter what happens, I can't stop turning that page. The suspense and drama are spot on, and the stories are always paced very well so that I know that I should only start one of these books when I have time to finish it all in one sitting. And now I have to wait until freaking February for the next book. I am not making a happy face.
I received an advanced copy of this book in exchange for an honest review. And, Ms. Frazier, I did read your intro to the ARC of Lawless, so from here on out I will be referring to you as Princess Banana Hammock. Now, let me tell you about this typo that I saw...
View all my reviews
About the Author
T.M. (Tracey Marie) Frazier resides in sunny Southwest Florida with her husband and three feisty fur kids.
She attended Florida Gulf Coast University where she specialized in public speaking. After years working in real estate and new home construction, she decided it was finally time to stop pushing her dreams to the back burner and pursue writing seriously.
In the third grade she wrote her very first story about a lost hamster. It earned rave reviews from both her teacher and her parents.
It only took her twenty years to start the next one. It will not be about hamsters.
Giveaway
King Series