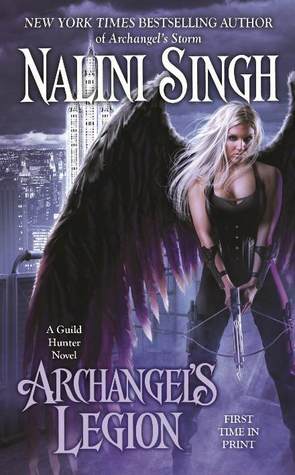 Archangel's Legion
by
Nalini Singh
Series: Guild Hunter #6
Pub. Date: Oct. 29, 2013
Publisher: Tantor Audio
Narrator: Justine Eyre
Length: 12 hrs 19 min
Format: Audiobook
Source: Hoopla
My Rating:
Sultry Scale:
Nalini Singh, the New York Times bestselling "alpha author of paranormal romance" (Booklist) returns to an immortal world of violent passion and lethal power…on the brink of a deadly archangelic war.
Angels are falling from the sky in New York, struck down by a vicious, unknown force.
Vampires are dying impossibly of disease.
Guild hunter Elena Deveraux and the Archangel Raphael must discover the source of the wave of death before it engulfs their city and their people, leaving New York a ruin and Raphael's Tower under siege by enemy archangels.
Yet even as they fight desperately to save the city, an even darker force is stirring, its chill eyes trained on New York…and on Raphael. Rivers of crimson and nightmares given flesh, the world will never again be the same…
I absolutely love the cover of this book. It's perfect imagery for The Tower and Elena's character. I have to say up front that I am kicking myself for reading this when I did because I was in a reading slump. I started listening to this book on audio and I just could not get into it for the life of me. Which is crazy! I love this series! And to have another Raphael/Elena book should have had me jumping up and down... but I didn't connect really until the fighting started near the end.
The Cascade is still occurring, increasing powers of those in the Cadre. Lijuan has obtained some freaky new powers and, because she is uber creepy and evil, a supernatural war is brewing. In the midst of the threat, Raphael is evolving. But will his powers help or hinder him in the fighting to come... and will he even get them in time? I loved seeing him and Elena work together to face this threat, and be willing to sacrifice themselves for the sake of their people.
So I continue to love Aodhan and I cannot wait for his book... but now I have a new favorite character Naasir! The narrator gave him a great accent and I am so excited his book has been published already. I am dying to know exactly what he is, and super stoked to see what kind of heroine Nalini will pair him up with.
Lots of things happen before the fighting two women trying to finagle Raphael away from Elena, family trouble with Elena's dad, Caliane has a ball, tragedy and diversion, and a very fun angelic game of catch. We meet The Legion, an interesting twist and I hope some of these winged creatures develop their own personalities - it will be nice to see them "humanize" and see how alike or different they become. So this book was a great supplement to the series and I am excited to finally get caught up.
View all my reviews
Guild Hunter Series