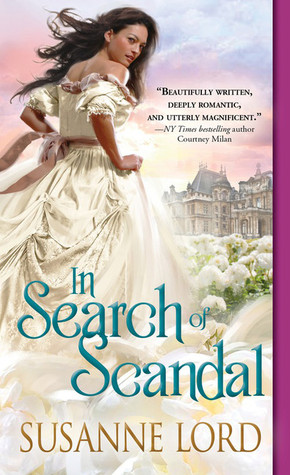 In Search of Scandal
by
Susanne Lord
Series: London Explorers #1
Pub. Date: Dec. 1, 2015
Publisher: Sourcebooks Casablanca
Pages: 416
Format: eARC
Source: NetGalley
My Rating:
Sultry Scale:
A DARING EXPLORER
All of London is abuzz with the tale of Will Repton. The lone survivor of a massacre in Tibet has returned to England a hero, but the traumatized explorer has no time for glory. Another dangerous expedition awaits. Nothing will deter him from his quest, and no one will unearth his secret—until Will meets Charlotte Baker.
IS NO MATCH FOR AN ADVENTUROUS HEART
Vivacious Charlotte Baker also has a mission—to find a man whose bold spirit matches her own. When she meets Will Repton, she immediately recognizes him as her soul mate, and she's naively willing to turn her back on the rules of propriety to ensnare him. Will is torn between his fascination with Charlotte and his vow to finish his quest. He knows what it is to risk life and limb—but what if his most perilous adventure doesn't lie across an ocean, but within his own lost heart?
I am absolutely astounded that this was Susanne Lord's debut novel. It was utterly fantastic, and gets my vote for my favorite historical romance of the year.
The heroine in this first installment of the London Explorers series, Charlotte Baker, is not an explorer but she does have an adventurous spirit. She has been following the explorations and adventures of botanist Will Repton by reading his scientific papers, and she has pretty much fallen in love with him sight unseen. So when he shows up in her salon, handsome and shy, its like the man of her dreams has come to life. I cannot say enough good things about this heroine. She was so vivacious and good-natured that you could not help but love her. I had such a great connection with her character, even though I don't usually go for those bubbly naive heroines. Her romanticism of Will's adventures and their interactions were written in a way that resonated with that fanciful part of me that tends to daydream up situations in my head.
As for our hero, Will Repton, he was a broody and broken man after suffering a horrible tragedy on his last expedition through China. I was quite surprised that I liked his character so much as I don't usually go for the shy and bookish heroes... I tend to prefer the devilish dukes, rakes and riffraff. But Will was one of those perfectly imperfect heroes that you could empathize with on one hand, and call him a dunderhead on the other. He really was self-sacrificing when it came to Charlotte. I loved that he put her up on such a pedestal, even though most of the misunderstandings between the two could be attributed to Will's low self-esteem.
There were a few times when I felt like I was missing something - when discussing Wally and the Earl and Lucy's prior marriage. I had to check Goodreads a couple times to make sure I wasn't missing a prior book. But this was very minor in the overall scheme of things and it did not detract enough from the story to change my 5 star rating.
I can't put my finger on exactly why this story was so poignant for me, but it evoked lots of emotions and I found myself with a tear in my eye quite a few times. It's rare that modern historicals engender that emotional connection for me, so I was delighted when I felt it happening here. I was really pulling for Charlotte and Will throughout the story, and I was so proud that Charlotte was able to stay positive when things did not quite line up with her dream of a happy relationship. I think one of my favorite moments was When finally realized/believed that Charlotte loved him, even if he didn't think he deserved her devotion. Overall, this was just a beautiful story and I would recommend it to any historical romance fan.
I received an advanced copy of this book in exchange for an honest review. I am definitely adding Susanne Lord to my auto-buy list for her future works. 5 stars / 3 flames.