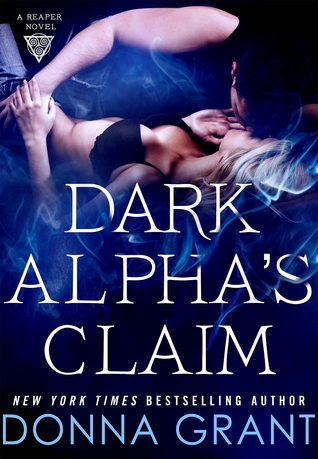 Dark Alpha's Claim
by
Donna Grant
Series: Reapers #1, Dark World #28
Pub. Date: Nov. 17, 2015
Publisher: St. Martin's Press
Pages: 163
Format: eARC
Source: NetGalley
My Rating:
Sultry Scale:
Dark Alpha's Claim is the first in an exclusive new series from New York Times bestselling author Donna Grant!
There is no escaping a Reaper. I am an elite assassin, part of a brotherhood that only answers to Death. And when Death says your time is up, I am coming for you...
My whole existence is based on taking what Death wants. Born to eliminate Fae guilty of unforgivable crimes, my reckless, wild nature makes me the perfect assassin to carry out Death's bidding. I've seen more sinister and violent dealings than anyone could ever imagine. But it was the sight of her face that stopped me cold. I've never wanted a woman-never mind a human-so badly; never felt my heart, hardened by death, burn brighter and hotter until it burst into flames. She is everything I desire. The kind of woman that compels you to stake your claim on her, to let the world know that she's yours. A Reaper saving her life will only attract danger, but I vow to protect her at all costs from the Fae that hunt her, and keep safe the woman who has claimed me, body and soul.
I have been wanting to read
Donna Grant
's
Dark Kings
series for a while now, I just have not had time to fit it in. So when I saw she had a new fae series coming out, I jumped at the chance to get in on the early reviews. (I love fae books!) What I didn't realize is that this series is a spinoff of Dark Kings, and I think I would have benefited from reading the other series first. It's not absolutely necessary that you do so, but there were many references to Dark Kings characters.
The Reapers are a group of seven dark and light fae who serve as executioners for Death (a/k/a Erith). The Reapers have taken a vow to do Death's bidding, forsaking relationships and personal entanglements for eternity. When a hinky order comes through to terminate all half-fae humans, the Reapers balk at the killing of innocents. This task is how our H/h first encounter one another and fall in lust at first sight.
Our heroine in the story is Jordyn, a half-fae human who is unaware of her origins. Coincidentally she is also obsessed with the fae and has been reading about them her whole life. For some unknown reason, the dark fae have targeted Jordyn and are trying to kill her at every turn. She is first saved by our hero, Baylon, a light fae reaper. The two have an instant connection and their instant lust turns into insta-love. The relationship faces multiple challenges including Baylon's vow and Jordyn's imminent death at the hands of dark fae.
I liked both of our main characters in this first installment of the series, but I would have liked to connect to their characters a little more. I think because the story was told from multiple points of view, that we didn't spend enough time with any one character. I would have loved more back story on both Jordyn and Baylon. However from what we see of them in the present story, they had a magnetic pull to one another and certainly steamed up my Kindle screen.
I enjoyed all of the secondary characters in this series, and I think my favorite reapers have already started to make themselves known. As I am a stickler for knowing the back story and background info, I need to quickly fit in all the
Dark World
books so I know everything about everything.
One thing I am not quite sure about is the title. I'm not sure who the "dark alpha" is. As the series is following a group of reapers made up of dark and light fae, I'm not sure why they would be referred to as a Dark Alpha. Baylon was actually a light fae, so it does not refer to their fae characterization. Maybe the Dark Alpha aspect will be explained in future books.
I received an advanced copy of this book from St. Martin's Press through NetGalley in exchange for an honest review.
View all my reviews
Reapers Series