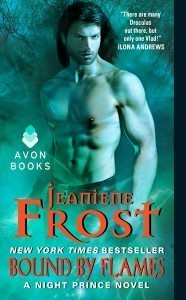 Bound by Flames
by
Jeaniene Frost
Series: Night Prince #3
Pub. Date: Jan. 27, 2015
Publisher: Harper Audio
Narrator: Tavia Gilbert
Length: 8 hrs 4 min
Format: Audiobook
Source: Audible
My Rating:
Sultry Scale:
Play with fire, pay the price.
Leila's years on the carnie circuit were certainly an education. What she didn't learn: how to be a vampire, or how to be married to the most famous vampire of them all. Adjusting to both has Leila teetering on a knife edge between passion and peril, and now the real danger is about to begin…
Vlad must battle with a centuries-old enemy whose reach stretches across continents and whose strength equals his own. It isn't like Vlad to feel fear, but he does…for Leila, because his enemy knows she is Vlad's greatest weakness. As friend and foe alike align against him—and his overprotectiveness drives Leila away—Vlad's love for his new bride could be the very thing that dooms them both…
So the Night Huntress series is one of my absolute favorites, and probably my favorite secondary character in the whole series is Vlad. I thought he was hilarious and endearing, and I was so excited that he was getting his own series. I think the best one-liners from the Night Huntress series all came from Vlad... other than "Hallo Kitten" anyway.
So I think all the build up for Vlad that I did in my head set me up for disappointment, because I just do not like Vlad in this series. I miss the humor and one-liners! I thought he would be different I guess - but he is pretty much an alphahole in this book/series. He is very cold and shows almost no emotion. Although he isn't quite turning out to be the funny powerful hero that I wanted, I still do feel a little bit of a connection to him. His tragic past always tugs at my heart strings, and I understand him a little more with each book.
As for Leila, I have never been able to connect to her at all. I want to - especially since the series is from her POV. But there is something missing and I haven't been able to sink my hooks into her yet. I did shed a few tears in this installment when Leila was going through her ordeal... but I didn't quite feel the horror of her situation. Did becoming a vampire make her less apt to be traumatized? I actually felt worse for Vlad having to watch Leila's torture than I felt for Leila when she was going through it.
Maybe I'm in a reading slump, or maybe I'm trying to hard with these books - but I just want more more more. And for all that this sounds like a negative review - it's not really. I like the book and the series, I just don't love it as much as I hoped to. I will finish out the series because I love
Jeaniene Frost
, but I think I will go back and read the Night Huntress books after just so I can remember the Vlad I came to love.
View all my reviews
Night Prince Series