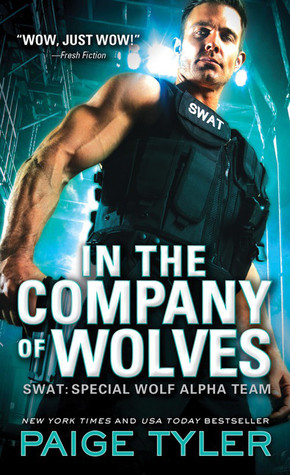 In the Company of Wolves
by
Paige Tyler
Series: SWAT #3
Pub. Date: Dec. 1, 2015
Publisher: Sourcebooks Casablanca
Pages: 352
Format: eARC
Source: NetGalley
My Rating:
Sultry Scale:
He opened his mouth to order her to drop the MP5 she had aimed at him, but nothing would come out. It was like she'd robbed him of the ability to speak. Shooting her wasn't an option, though. And the idea of arresting her didn't make him feel any better.
There's a new gang of criminals in town who are organized and ruthless in the extreme. When Eric Becker, along with the rest of the Dallas SWAT team, ends up in the middle of a shootout, he immediately senses werewolves-a lot of them. Turns out, the new bad guys are a pack of wolf shifters.
In a spray of gunfire, Becker comes face-to-face with the most gorgeous woman he's ever seen. Becker does the logical thing. He hides her and leaves the scene with the rest of his team.
Jayna Winston has no idea why that SWAT guy helped her, but she's glad he did. Ever since she and her pack mates got mixed up with those Eastern European mobsters, everything had pretty much fallen apart.
So what's a street-savvy thief like Jayna going to do with a hot alpha-male wolf who's a police officer?
I have been a total cover whore for this series by
Paige Tyler
. Luckily, the stories do not disappoint. I mean, what's not to like about a SWAT team comprised of seventeen alpha male (and one female) werewolves?
So this is the third installment of the SWAT series, and we learn a lot more about werewolf society in this installment. While our SWAT team is made up solely of alpha wolves, we are now introduced to betas and omegas. It's kinda weird that none of the SWAT Team (besides Gage) knows anything about other werewolves. You would think that would be something he would want to teach them as soon as they turn and he recruits them to the team. But anywho, it is what it is.
So our hero in this installment is Eric Becker, he who is obsessed with yoga pants. I can't remember much else about him from past books besides that little tidbit. Becker goes out of his way to help our heroine, Jayne Winston, and her pack, out of a very bad situation. While he may be an alpha werewolf, I didn't find him to be all that demanding like most alphas are. Once he fell head over tail in love/lust at first sight/sniff with Jayna, he seems pretty considerate and understanding. He was a nice guy, but he didn't have that broody quality that I usually like. Overall I liked him, but not quite as much as Xander and Gage.
Jayna Winston is a tortured heroine who grew up in a crappy home and gained her werewolf abilities during a horrible incident with her lecherous stepfather. Once she left home, she was taken in by a pack who now has her loyalty. Only her alpha has gotten them into a dangerous situation with some mobsters. Jayna has never heard about the fated mate aspect of werewolves, so she does not understand her extreme attraction to Becker. And given her past, she is understandably gunshy about sexual entanglements. I liked Jayna. I was a little worried that she was going to push Becker away, but she impressed me with her willingness to accept his help and give the relationship a shot.
The action and suspense in this story was pretty good. The Albanian mobsters were super greedy and sociopathic, and Liam was easy to hate. This book was not quite as steamy as the last one, but it still had a good heat factor. Becker and Jayna were a little more low key given Jayna's past. Cooper played a bigger part in this book as a secondary character, and I like him quite a bit so I am looking forward to his story.
I received an advanced copy of this book in exchange for an honest review.
View all my reviews
SWAT Series