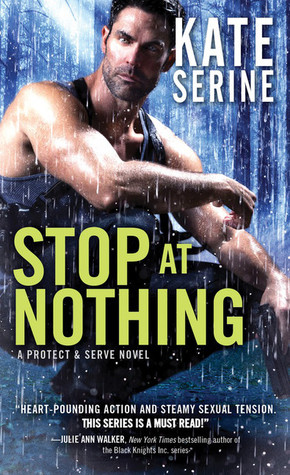 Stop at Nothing
by
Kate SeRine
Series: Protect and Serve #1
Pub. Date: Nov. 3, 2015
Publisher: Sourcebooks Casablanca
Pages: 352
Format: eARC
Source: NetGalley
My Rating:
Sultry Scale:
When a high-profile investigation goes wrong, FBI Agent Kyle Dawson is transferred back home where he is forced to confront his demons…and the only woman he ever loved. Three years ago, Kyle and Abby Morrow shared a wild, passionate summer—then Abby broke his heart.
Kyle never stopped loving Abby. So when Abby uncovers evidence of a human-trafficking ring, leading to her sister's kidnapping, he swears he'll stop at nothing to bring her sister home and keep Abby safe. Caught in a lethal game of cat and mouse and blindsided by their own explosive desires, they must set aside the past before it's too late.
I am having a hard time writing this review... and I had a hard time with this book. I am not sure if I am in a reading slump, or if the story didn't agree with me. I am leaning toward reading slump because the book didn't make me ranty or aggravated, I just found myself not caring about the story or characters. So take this review with a grain of salt because I was not at the top of my reading game when this one came up in my schedule.
This is a romantic suspense with a second chance romance for Kyle and Abby. Kyle is a reckless FBI agent who seems to have been bounced around the agency due to his personality and behavior. As he was only hired by the FBI within the last 3 years, this part was a bit unbelievable to me. When books enter an arena close or similar to my profession, its a bit of a reading hazard because I start to pick them apart. Instead of connecting with the story, I started musing that Kyle should have been away at training for X amount of time, then he would have been on probation for the first two years of employment, and any behavior problems would have gotten him fired, and yada yada, you get the picture. But I digress. Other than that issue, I kinda liked Kyle. He was a bit of an alpha male agent... but he was also a reckless hothead, stubborn, and a tad close-minded. He was in love (or serious like) with Abby 3 years ago before he was leaving for the FBI... and she ended things with him before he left. By some miracle, Kyle has not been with another woman since he and Abby split. This caused me to do a doubletake - I was like "did I read that right? Surely not." This was even less believable to me than the professional bouncing around. Jaded, thy name is Bambi.
Then we have Abby, who I believe is an intel analyst for the state/local police department. She is doing computer forensics, and convinced her boss (the Sheriff, Kyle's dad) to allow her to take on private forensic work... using government equipment to do so. This was a HUGE HUGE HUGE red flag to me as anyone who works for the government knows that this is a big no no - you do not use any government property for private gain. There are government ethics statues, regs and rules out the yazoo that would prevent Abby from doing private work such as this. As for Abby's character - I didn't really care for her. I didn't like that she kept the huge secret from Kyle without talking to him and letting him make his own decisions. Other than that, I can't say precisely why I couldn't connect with her - I just didn't. I didn't feel like any of the characters had a lot of depth... so I think I just need them to be a little more dimensional for me to get the emotional connection that I look for.
The suspense of the story was pretty good. I liked the plot line and conflict. The ultimate villain was predictable, but the predictability did not detract from the story for me. There is an antagonist who confused me a bit... Greg Fielding. I would have liked for his motivations to have been explained a little more. Is he a bad guy or a good guy? His reasoning for the actions in the second half of the book were a little soft... my inner psychology student wanted to know why why why before Mr. Fielding faded into the night. The conflict resolution at the end was a bit soft as well - I would have liked to see a little more action. But still, the suspense was decent and the human trafficking storyline was interesting.
I know this review is sounding more negative than positive... but I didn't "not like" the book... I am just somewhat ambivalent about it. I am interested in the other Dawson brothers so I think I will continue with the series. I will just make sure I don't read the next book when I am in a slump - that way I can give the series a fair analysis.
I received an advanced copy of this book in exchange for an honest review.
View all my reviews