Hello bambinas!
Welcome to this special feature post about stepbrother love! My friend Deanna (from Deanna's World) and I have been discussing this huge uptick in stepbrother romance books that have been appearing on Amazon lately. This taboo trope is trending to the tune of more than 1,400 books on Amazon. Check out Deanna's introductory post with some background on the stepbrother surge, and let us know what you think!
Now - what do I think about stepbrother romance? Well, I can honestly say I had never considered it before all of these books started being released. So I had to do some research of course. I set out to read a few of the stepbrother romances, but I quickly realized that many of them feature very young characters. And, I guess this is what makes them popular: the younger the characters - the more taboo the story. I am 35 years old, and I consider myself to be mature for the most part. So I can't deal with reading with teenage relationship drama anymore. I'm afraid my eyes will roll out of my head if I do that. But I toughed through it and read the 4 books below. See my final verdict after the jump!
Prick
by
Sabrina Paige
My Rating:

Sultry Scale:
I think this book was well-written and will appeal to the younger crowd (18-22ish). It was full of 18 y/o angst so I couldn't really connect with the characters. I felt like I was an observer of the story instead of trying to read from the main character's POV.
This is not a taboo read, even though its labeled a stepbrother romance. The characters are legal age, and they get together before their parents marriage.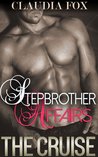 The Cruise by Claudia Fox
Stepbrother Affairs
My Rating:

Sultry Scale:
I was not impressed with this one. The characters were young... still in high school. The parents were only recently married, so they didn't grow up together. So I didn't have that squicky feeling that they were like siblings. However, their purposeful unprotected sex - a huge no no. I mean, WTF? Totally irresponsible. And that's all I have to say about that.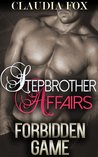 Forbidden Game by Claudia Fox
Stepbrother Affairs, Book 2
My Rating:

Sultry Scale:
Yikes! This one definitely falls on the squicky side as the step siblings grew up together like regular siblings. These characters were still in high school as well. And the girl was stoked about the unprotected sex and that the stepbrother impregnated her. Um, no. Squicky squicky squicky.
Taken by my Shifter Billionaire Stepbrother and his Motorcycle Club (of Vampires) (BBW Shifter Orgy Romance) by Stikki Minaj
My Rating:

Sultry Scale:
This is one of those books that I am embarrassed that I read... and even more embarrassed that I didn't hate it!!!
I saw this book and laughed out loud at the title, so I couldn't pass it up. I mean how many tropes can you pack into one tiny short story? Shifters, vampires, billionaire, stepbrother, bikers, witches, BBW and pregnancy! It's an amalgamation of every storyline that has been popular over the past year. Honestly, there wasn't much story to it because it was so short... it's paranormal erotica that was so ridiculously bad that it was funny. That's why I didn't hate it. It was an eyerolling good time.
My final verdict: Stepbrother romances are probably not for me. I don't like the young characters... and the sibling love gives me that squicky feeling if they have grown up together. I'm not gonna say that I will NEVER read one. If the characters are a tad older and didn't grow up together, then I might give it a shot. But I am not likely to pick one up if either character is under 22 years old.
What about you - do you like stepbrother romance? Be honest, Bambi doesn't judge what anyone reads. And to show you proof of that, this week Thrifty Thursday is going to be all about Stepbrother Love.
View all my reviews