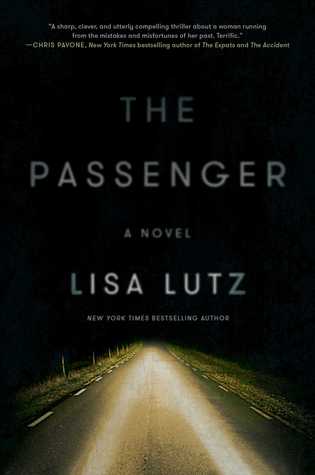 The Passenger
by
Lisa Lutz
Pub. Date: March 1, 2016
Publisher: Simon & Schuster
Pages: 320
Format: eARC
Source: NetGalley
My Rating:
Sultry Scale:
From the author of the
New York Times
bestselling Spellman Files series, Lisa Lutz's latest blistering thriller is about a woman who creates and sheds new identities as she crisscrosses the country to escape her past: you'll want to buckle up for the ride!
In case you were wondering, I didn't do it. I didn't have anything to do with Frank's death. I don't have an alibi, so you'll have to take my word for it...
Forty-eight hours after leaving her husband's body at the base of the stairs, Tanya Dubois cashes in her credit cards, dyes her hair brown, demands a new name from a shadowy voice over the phone, and flees town. It's not the first time.
She meets Blue, a female bartender who recognizes the hunted look in a fugitive's eyes and offers her a place to stay. With dwindling choices, Tanya-now-Amelia accepts. An uneasy―and dangerous―alliance is born.
It's almost impossible to live off the grid today, but Amelia-now-Debra and Blue have the courage, the ingenuity, and the desperation, to try. Hopscotching from city to city, Debra especially is chased by a very dark secret…can she outrun her past?
With heart-stopping escapes and devious deceptions, The Passenger is an amazing psychological thriller about defining yourself while you pursue your path to survival. One thing is certain: the ride will leave you breathless.
Oh man this is a hard book to review. So let me start out by saying - I liked it! It was definitely outside my normal romance-genre reads. Sometimes I step outside my fantasy world looking for a palette cleanser, and its always nice to find one like The Passenger.
Lisa Lutz
is new-to-me as an author, but I hope she keeps writing books in this genre because I will be a fan. I may even give her Spellman series a shot if I get in the mystery mood.
So our main character is a man of many names and faces. You will get to know her as Tanya, Jo, Debra, Sophia, Nora, and many other names. I will call her Jo for convenience sake... but she is a chameleon on the run. I was somewhat surprised that she was so good blending and evading given that she went on the run right out of high school.
Along the way, Jo meets a woman named Blue, who is also in hiding. I didn't know what to think about Blue, and I still don't. She is probably up to no good, and she certainly has no reservations about taking affirmative action. I think Blue's story was left a bit at loose ends... maybe a sequel? I'm not sure.
As for why Jo is on the run - well you will just have to read that to find out. You get tidbits along the way, but all is not revealed until the end. This one is classified as a psychological thriller... but it didn't have that feel to me. It felt more like a suspense drama to me - one that didn't require that you suspend all your belief to get into the story. It definitely kept me turning the page and wanting to find out what would happen next. I don't want to mention specifics because this is the kind of book where I would want to discover everything on my own, so I'm not going to spoil it for my followers.
I received an advanced copy of this book from Simon & Schuster via NetGalley in exchange for an honest review.