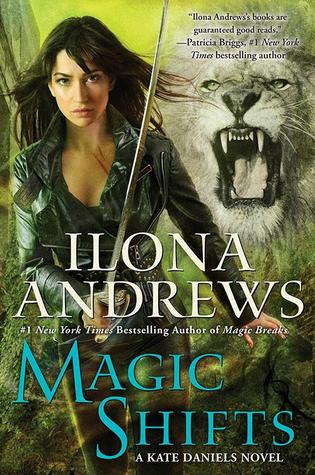 Magic Shifts
by
Ilona Andrews
Series: Kate Daniels #8
Pub. Date: Aug. 4, 2015
Publisher: Brilliance Audio
Narrator: Renee Raudman
Length: 14 hrs 10 min
Format: Audiobook
Source: Audible
My Rating:
Sultry Scale:
In the latest Kate Daniels novel from #1 New York Timesbestselling author Ilona Andrews, magic is coming and going in waves in post-Shift Atlanta—and each crest leaves danger in its wake…
After breaking from life with the Pack, mercenary Kate Daniels and her mate—former Beast Lord Curran Lennart—are adjusting to a very different pace. While they're thrilled to escape all the infighting, Curran misses the constant challenges of leading the shapeshifters.
So when the Pack offers him its stake in the Mercenary Guild, Curran seizes the opportunity—too bad the Guild wants nothing to do with him and Kate. Luckily, as a veteran merc, Kate can take over any of the Guild's unfinished jobs in order to bring in money and build their reputation. But what Kate and Curran don't realize is that the odd jobs they've been working are all connected.
An ancient enemy has arisen, and Kate and Curran are the only ones who can stop it—before it takes their city apart piece by piece…
Warning: This review may contain spoilers from the previous books in the series. So if you have not read through Book 7, you may not want to read any further.
After the big shocker in the last book, Kate and Curran have left the pack to allow Kate's dear old dad, Roland, to say he "punished" them for Kate claiming the city. Now Curran is patrolling the 'burbs in beast form and scaring all the busybody neighbors out of their wits. And they also sit down to dinner with Roland... at Applebee's. So is he a super bad guy, is he a doting dad, or what? I am on the fence about this one... I think I know which way it's gonna go, but I still hold out a little hope for Kate and Roland to develop some kind of fluffy bunny familial tie. (I'm delusional, I know.)
Though Kate and Curran have left the pack, the pack hasn't really left them. They constantly have pack members (or former pack members) coming to them for help, showing up at their breakfast table, and even moving in next door. In just one situation, they discover that Eduardo (the werebison) is missing after taking on gigs at the Mercenary Guild. Their investigation into Eduardo's whereabouts puts them on the path of killer zombies, odd shapeshifters that don't die, and an ancient evil newly awakened. Although the action in this series is always good, this one was not quite as up to par for me as the books with Roland and Hugh d'Ambray and Hera. However, like previous books, the Andrews' writing team continues to weave wonderful aspects of mythology into the story, and we get to experience some Arabic mythology in this latest installment. I really enjoy these aspects of the story.
I love seeing Kate and Curran's domestic life, and I think the community and family they are building outside of the pack is going to have a really special dynamic. Though it does seem weird referring to Jim as the Beast Lord - that will always be Curran for me. We get another great bathtub scene in this book, which harkens me back to the days of Coronas and a hot tub during the Games. I wish I could elaborate on it a little more but I am writing this review almost a month after I listened to the audiobook. (Procrastination, thy name is Jen.)
So now I am anxiously awaiting Book 9 to come out sometime in 2016... and I am so excited to meet the authors at Nola Storycon next year. If you have the opportunity to read or re-read (as is my case) these books, give the audio versions a shot because the narrator, Renee Raudman, is absolutely fantastic.
Kate Daniels Series