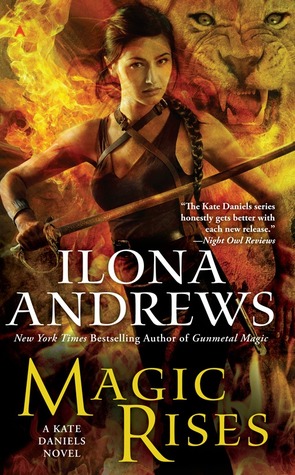 Magic Rises
by
Ilona Andrews
Series: Kate Daniels
Pub. Date: July 30, 2013
Publisher: Recorded Books
Narrator: Renee Raudman
Length: 15 hrs 6 min
Format: Audiobook
Source: Audible
My Rating:
Sultry Scale:
Atlanta is a city plagued by magical problems. Kate Daniels will fight to solve them—no matter the cost.
Mercenary Kate Daniels and her mate, Curran, the Beast Lord, are struggling to solve a heartbreaking crisis. Unable to control their beasts, many of the Pack's shapeshifting children fail to survive to adulthood. While there is a medicine that can help, the secret to its making is closely guarded by the European packs, and there's little available in Atlanta.
Kate can't bear to watch innocents suffer, but the solution she and Curran have found threatens to be even more painful. The European shapeshifters who once outmaneuvered the Beast Lord have asked him to arbitrate a dispute—and they'll pay him in medicine. With the young people's survival and the Pack's future at stake, Kate and Curran know they must accept the offer—but they have little doubt that they're heading straight into a trap…
Oy, another great audiobook from
Ilona Andrews
and narrated by Renee Raudman. We all love Ilona's stories... but let me tell you, I cannot say enough good things about Renee Raudman as a narrator. She is freaking fabulous. I would love to see a video of her working to see the effort she puts into her different voices, accents, and inflections. Each character is different and unique and she really brings their personality to life. And when emotion is called for, she does not shy away from emitting tears, rage or cold fury. I would totally fangirl over this narrator! In fact, I will only do Ilona's books in audio now just because Renee does such a good job. She did a great job with
Burn for Me
and I hope to do The Edge series next in audio.
When you start this book, you may think that it won't be one of your series favorites. I mean, the pack going to bodyguard a pregnant girl while the families bicker about an inheritance? Sounds easy peasy, right? Well, of course things are never as they seem and Kate and Curran are in for a huge surprise. And of course, the writing team does not disappoint with their imagination and creativity with myths and legend. The weredolphins were unique and the llamasu were straight from legend. These books would make great graphic novels just for the extraordinary paranormal characters. We have more biblical references in this installment with the Book of Daniel and and the story of the Shepherd.
Kate and Curran's relationship hits a rocky road in this book and I was totally getting depressed right along with Kate and wanting to shake the crap out of Curran. And that bitch (literally) Lorelei, I wanted to pull all her hair out! Although this was a little painful, the situation does help show an emotional side to Kate so we are not always seeing her as the methodical killer. Though I do love Kate as a kickass heroine. Some of my favorite scenes in this book were when she fought along side and against Hugh d'Ambray. And I am still holding out hope for Hugh to be redeemed. He is an interesting character and it would be nice to see if his interest in Kate could overcome Roland's hold on him.
With this book I started to get sad because I know the story arc is coming to an end soon, and I think there are only 3 more books on the contract. This will be such a sad day for me because this has become such a favorite series for me. I predict that I will be re-reading/listening to these many times in the future.
View all my reviews
Kate Daniels Series