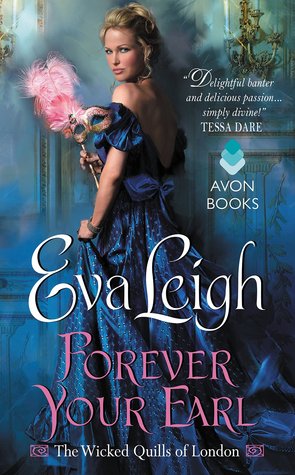 Forever Your Earl
by
Eva Leigh
Series: Wicked Quills of London #1
Pub. Date: Sept. 29, 2015
Publisher: Avon
Pages: 384
Format: eARC
Source: Publisher / Edelweiss
My Rating:
Sultry Scale:

Eva Leigh makes her Avon debut with the first book in her smart and sexy Wicked Quills of London series!
Eleanor Hawke loves a good scandal. And readers of her successful gossip rag live for the exploits of her favorite subject: Daniel Balfour, the notorious Earl of Ashford. So when the earl himself marches into her office one day and invites her to experience his illicit pursuits firsthand, Eleanor is stunned. Gambling hells, phaeton races, masquerades…What more could a scandal writer want than a secret look into the life of this devilishly handsome rake?
Daniel has secrets and if The Hawk's Eye gets wind of them, a man's life could be at stake. And what better way to distract a gossip than by feeding her the scandal she desperately craves? But Daniel never expected the sharp mind and biting wit of the beautiful writer, and their desire for each other threatens even his best laid plans.
But when Eleanor learns the truth of his deception, Daniel will do anything to prove a romance between a commoner and an earl could really last forever.
Bambi's Review
This novel is so delightfully clever that it has made me an instant fan (insta-fan?) of
Eva Leigh
.
Forever Your Earl
is so chock full of witty one-liners and spicy innuendos that you will be wearing a perma-grin as you read.
In a departure from the genre, our heroine is an unmarried lady of 32 years, a commoner, a tradeswoman and (gasp!) not a virgin. Eleanor is also saucy and snarky and very quick-witted. I thoroughly enjoyed her character and can't think of one thing to discount or complain about.
Our hero is a dashing aristocrat suffering from a bit of ennui with social situations, but bearing them as somewhat of a ruse to search for his missing friend. Daniel, Earl of Ashford, is a reprobate rake (or so he would have you believe). But through the adventures of Daniel and Eleanor, we see the compassionate and respectful man beneath the reputation. Daniel's self-confidence was one of his most attractive qualities, and it tickled me when he tried to explain to Eleanor how a man's confidence came from his sausage and potatoes!
The banter between these two was top notch... I think it may have been the best bantering I have read this year. Their verbal sparring was very entertaining and the innuendos created sexual tension that was off the charts. I mean, seriously, they had a duel writing dirty limericks! It was great! The spicy talk is certainly unique for the historical romance genre, where we mostly see prim and proper tittering ladies. Eleanor was nothing of the sort, she was not afraid to display her razor-sharp wit and Daniel loved to parry her little quips. The intimacy between our H/h was quite steamy, and it was very well-written with lots of drawing out and anticipation before the final act.
I received a free copy of this book in exchange for an honest review. I am giving it 4.5 stars / 3 flames. The only reason I didn't give the full 5 stars is that we seemed to lose the banter toward the last part of the book, and the ending seemed a tad bit rushed. But, overall, I thoroughly enjoyed this one and can't wait to read
Scandal Takes the Stage
later this month.
Favorite line of this book:
There's nothing quite like an oyster. Well, there is, but you can't go around offering it on trays.
Imagine if they walked around with trays of sausages.
View all my reviews
About the Author
EVA LEIGH is the pen name of a RITA® Award-nominated romance author who writes novels chock-full of smart women and sexy men. She enjoys baking, Tweeting about boots, and listening to music from the '80s. Eva and her husband live in Central California.
Author Interview
What made you decide to write about historical romance rather than one of the other romantic subgenres?
My first love in romance was historical romance, and that continues to this day. I love the combination of history and romance, learning about different times and customs, then combining all that with a tale about two people falling in love. There's always some corner of history with a fascinating tale, plus I'm very interested in learning and writing about women in male-dominated fields.
Are you a historical guru, or do you have to do research for each book? If you research each story... tell us a little about it. How long does it take and what types of information are you looking for?
A little of both. I have foundational knowledge about history, but I certainly don't know everything! That's when I turn to my research library and the internet to fill in the gaps. It can take a few minutes to weeks to get precisely the information I need. Plus the research definitely shapes the plot of the story, so I want to make sure I get everything right!
For those who have not yet read your books, can you tell us who (or what) are the Wicked Quills of London?
The Wicked Quills of London is a series about three women writers in Regency England. Each heroine has her own specific specialty. Eleanor Hawke, the heroine of Forever Your Earl, owns and edits (as well as contributes to) a popular scandal rag called The Hawk's Eye. Margaret Delamere, from Scandal Takes the Stage (November 2015), is a playwright. And Lady Sarah Frampton, the heroine of Temptations of a Wallflower (May 2016), secretly writes anonymous erotic novels.
A woman writing professionally during the Regency period is an extremely daring and subversive act—she's getting paid to speak her mind! So I wanted to capture that sense of audacity and determination in these books.
Have you planned out the entire series for the Wicked Quills characters, or are you still developing it? Can you give us a sneak peak at what the future holds for the series?
All the books have been written, though I'm currently in revision stages for Temptations of a Wallflower. Each book is set in a different realm of writing. For example, Scandal Takes the Stage is, as you might expect, set within the world of the theater, so we get to see a different side of Regency England. With Temptations of a Wallflower, the heroine is a duke's daughter, so it's doubly scandalous that she writes erotic novels—plus her hero is a vicar! I loved writing him.
Do you have any interesting, funny or just plain weird writing quirks?
My husband, fellow romance author Nico Rosso, is deeply involved in my writing process. We hammer out the story together, and then I go off and write it. He's my beta reader and gives me thorough notes before my editor sees it.
Also, I listen to a lot of '80s music when I work!
If you could live in any other time period, when would you live and why?
Honestly, I would rather visit a time period rather than live in it. I like my contact lenses and ability to vote! But actually walking around during the 18th century or Regency for a day or two would be amazing, just to see what life was really like.
What do you have in the works now?
Revisions on Temptations of a Wallflower are my top priority right now! A naughty vicar is extremely important to me.
Excerpt
But Lord Ashford up close was rather...appalling. It didn't seem right that a man so blessed by fortune and title should also be so attractive.
His dark brown hair was fashionably cut and artfully tousled, as if he'd recently risen from a lover's bed. Given his reputation, that was most likely possible. He had a broad forehead, a coin-clean jawline, thick brows, and eyes that, even with yards between her and him, stunned her with their blue clarity. Naturally, he had a mouth that looked very adept at kissing and...other things.
He moved with a long-limbed ease that betrayed his skill as a sportsman. His ink blue coat fit the broad width of his shoulders, and his cream and gold-embroidered waistcoat defined the shape of his torso—his tailor on Jermyn Street produced excellent work. Snug doeskin breeches were tucked into polished Hessians that came from Bond Street.
Truly, he was quite alarming.
"Miss Hawke?" he asked sharply, coming to stand in front of her paper-cluttered desk. "I wasn't expecting a female."
"Neither were my parents," she answered, "but they learned to adapt. How might I help you, my lord?"
Though she felt an obligation to ask the question, she braced herself for what was sure to be a scorching lecture.
He removed his hat and set it aside. Then he held up an issue of The Hawk's Eye and began to read.
"'Lord A—d, a figure well-known to our assiduous and genteel readers, was lately seen in the company of a certain Mrs. F—e, whose late husband made his considerable fortune through the manufacture and sale of a woman's garment we blush to mention in these virtuous pages.'" He tossed one of the issues to the ground. "Wrong."
But he wasn't done. Holding up another issue of the paper, he read again. "'It may or may not stun our honorable readers to learn that the notorious Lord A—d has not amended his ways following the duel over Lady L., from Y—shire, and has been espied with another married lady of questionable character, at the late night revels hosted by the equally rakish Mr. S—n. Yet it was noted by our keen-eyed intelligence that this married lady was not the only female vying for the earl's favors.'" This paper he also cast to the floor. "Wrong."
She herself had written those pieces, and while they weren't matchless examples of English prose, she was still rather proud of them, as she was of all her labors. To have her hard work thrown to the ground like so much garbage was rankling.
"I assure you, my lord," she said bitingly, "The Hawk's Eye strives for the greatest of accuracy." She had a network of sources which she used regularly to provide information. Many members of the aristocracy were in dire need of funds, and they gladly turned on each other in order to maintain the pretense of effortless wealth. Eleanor always paid her informants to keep them returning.
Whether or not they lied to her just to collect payment wasn't her concern, but she always preferred it if she could validate their statements. Sometimes that meant going out and conducting a few investigations. But she was a very busy woman—writing articles, editing countless others, managing the paper's finances—and didn't always have the time.
She had to earn a living, after all. And men like the earl didn't.
Wicked Quills of London Series