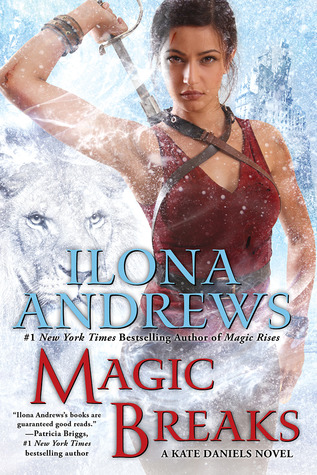 Magic Breaks
by
Ilona Andrews
Series: Kate Daniels #7
Pub. Date: July 29, 2014
Publisher: Recorded Books
Narrator: Renee Raudman
Length: 16 hrs 23 min
Format: Audiobook
Source: Audible
My Rating:
Sultry Scale:
No matter how much the paranormal politics of Atlanta change, one thing always remains the same: if there's trouble, Kate Daniels will be in the middle of it…
As the mate of the Beast Lord, Curran, former mercenary Kate Daniels has more responsibilities than it seems possible to juggle. Not only is she still struggling to keep her investigative business afloat, she must now deal with the affairs of the pack, including preparing her people for attack from Roland, a cruel ancient being with god-like powers. Since Kate's connection to Roland has come out into the open, no one is safe—especially those closest to Kate.
As Roland's long shadow looms ever nearer, Kate is called to attend the Conclave, a gathering of the leaders from the various supernatural factions in Atlanta. When one of the Masters of the Dead is found murdered there, apparently at the hands of a shapeshifter, Kate is given only twenty-four hours to hunt down the killer. And this time, if she fails, she'll find herself embroiled in a war which could destroy everything she holds dear…
Bear with me on this review folks because, numpty that I am, I did not write my review as soon as I finished my audiobook. I think I was traveling at the time and planned to write it when I got home, but then forgot. Now its several weeks later that I need to get the blog post up and I have quite forgotten most of what I want to say (and its not as if I could make notes on the audiobook as I was listening).
In this installment of the Kate Daniels series, its the end of the story arc, but not the end of the story. Kate finally gets to meet and face off against her father, but continues to face off against Hugh d'Ambray along the way. For some reason, I have liked Hugh d'Ambray throughout this story. He is a villain for sure, but one that I continued to hope would be redeemed. I love the sparring (literally and figuratively) that has gone on between Hugh and Kate... and wished for a sneak peak into his head to see what he really thinks and feels about this kickass daughter of Roland's. Unfortunately I don't think we will ever see Hugh's redemption - more likely we will get his death at the hands of Kate or Roland.
There is not much romance in this installment of the series as Curran is gone on a hunting trip for a good portion of the book. This leaves Kate to deal with pack issues on her own... something she does well at as much as she loathes the duty. I like to see Kate in a managerial and decision-making role, there is always lots of plot conflict to keep the pages turning. And Kate never sends other people to do a job that she should take care of herself. In that we see that she truly cares about the people around her, because she always chooses to put herself in danger rather than other people.
In a sneaky and underhanded move by Hugh, Kate and Ghastek get stuck in a harrowing situation together for a portion of the book. This gives us the opportunity to learn much about Ghastek's character, which I enjoyed. It also again shows Kate's caring nature as she works to help Ghastek through the ordeal, although their past relationship has been tenuous.
Kate meets another family member in this book, which I thought was excellently done. And she gets a special gift from this very dangerous person. We also get a look at the fabled prison created by Roland, which I think we have heard about in previous books. Some very unexpected things happen when it comes to Roland, but I don't want to say too much in that regard to avoid spoilers.
In short, I loved this book. It evoked tears for me a few times, and there was danger around every corner. I love seeing how Kate works independently and together with the Pack, or as a couple with Curran. I am even more sad at the finishing of this book because I know we only have a couple left.
Oh and favorite new animal - Cuddles, the gigantic donkey!
View all my reviews
Kate Daniels Series