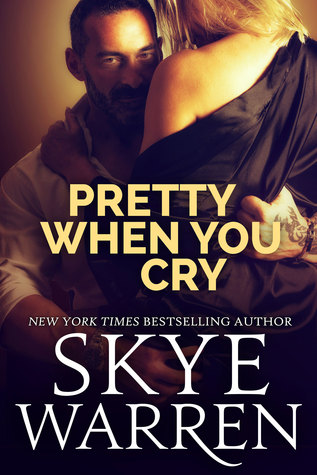 Pretty When You Cry
by
Skye Warren
Series: Stripped #4
Pub. Date: Oct. 20, 2015
Publisher: Self-Pub
Pages: ~190
Format: eARC
Source: Author
My Rating:
Sultry Scale:
A new dark romance novel from the New York Times bestselling author of Wanderlust and Prisoner…
I came from a place of dirt floors and holy scriptures. They told me the world outside was full of sin, and the first night I escape, I find out it's true. Ivan saves me, but he does more than that. He takes me. He makes me his own girl.
My conditioning runs too deep. Ivan sees what I am.
That's the thing about showing a mouse to a cat. He wants to play. And it's terrifying, even for me. Because the only thing darker than my past is his.
This is my first read from
Skye Warren
. I have a bunch of her books, I tend to pick them up whenever they go on sale. But for whatever (silly) reason I had not picked one out of my TBR pile before now. I have to say that she writes very well; the story was paced nicely and the plot was very interesting. It was a bit more than interesting actually - it was morbidly fascinating! I am certainly not into the daddy/daughter kink whatsoever, so those parts were a bit squicky... but the rest of the storyline was great.
The leading female in this story is Candace, and we first meet her as she has just escaped a crazy cult where she has spent most of her childhood. In the cult, everyone has to follow/worship/revere Leader Allen - and you can imagine that this reverence is of a dark and twisted nature. Candace has just escaped with a little help from her mother and ends up in Tanglewood. This situation was a very unique storyline - I can't think of another book that had similar circumstances. It was very interesting to see what effect the cult upbringing had on Candace once she was on the outside.
Candace is surrounded by some unsavory characters in Tanglewood and is rescued (kind of) by Ivan, owner of The Grand strip club. Ivan is dark and broody and somewhat depraved, but he has his own tortured past as much as Candace does. I would have loved to see more from Ivan - he seemed to be so stoic and unfeeling that I wanted to get in his head. I was really hoping for a glimpse, so it would have been great to have an alternating POV here.
The proclivities of Ivan and Candace seemed on the extreme side of taboo to me - I cringed several times when they were in the daddy/little one roles. Candace speaking in the childish manner was particularly difficult to take. It would have been interesting to expound upon why/how Candace and Ivan's backgrounds influenced this particular kink. But even though this is not my thing, I am of the "whatever floats you boat" mindset. The story was good enough for me to overlook this part that didn't interest me.
I received an advanced copy of this book in exchange for an honest review. I have not read the previous books in the series, and I wasn't too lost. I know there was a lot of character crossover, but it was not overwhelming to the point where I felt I absolutely had to read the earlier books (but I certainly will go back and read them now).
View all my reviews
Stripped Series