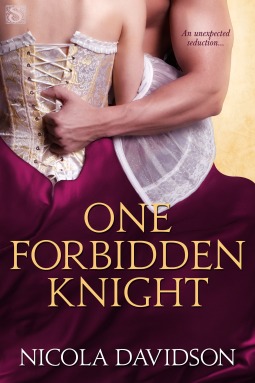 One Forbidden Knight
by
Nicola Davidson
Pub. Date: Oct. 19, 2015
Publisher: Entangled Scandalous
Pages: 113
Format: eARC
Source: NetGalley
My Rating:
Sultry Scale:
Catherine Linwood is amongst the favored of Tudor Queen Mary–until her physician father dies mysteriously. She's distraught, shunned and desperate for answers. Catherine's only ally is Sir Brandon FitzAlan...who is willing to risk his life to protect hers. While the handsome stranger's courage and wit soon capture her heart, his true allegiance and purpose is uncertain.
Brand is well used to the lies and shadows of court. Yet nothing prepares him for his sizzling attraction to innocent Catherine, or the deadly plot she is tangled in, for her father took a secret to his grave that could tear Catholic England apart. With one chance at salvation, Brand and Catherine begin a cross-country journey that reveals the shocking truth...and a burning passion that could save or destroy them both.
This was a decent quick read full of court intrigue set during the reign of Mary Tudor, known historically as Bloody Mary.
Our heroine, Catherine Linwood, is one of the Queen's ladies and has served Mary dutifully. When Catherine's father dies suddenly and under suspicious circumstances, Catherine's world is turned upside down. People she once trusted have betrayed her in the worst way just to keep their dirty little secrets from coming out. Even though this was a shorter story, I did feel a connection with Catherine. I can't imagine living in that time and those circumstances where people would sooner betray you than look at you.
While grieving for her father, Catherine has a chance encounter with Brand FitzAlan. Brand feels he owes a debt to Catherine's father, and vows to find the truth behind his death. Bran is a bit of a tortured soul with deep resentment for his father who refused to acknowledge him. He was also subject to scandal as a result of his first marriage. I liked Brand - he was a bit broody and broken, but was also gallant.
The intrigue and politics were well-written, as was the blossoming romance between Catherine and Brand. The ending felt a tad rushed or anti-climactic, but that could be attributed to the length of the book more than the writing. I always like to see the plot conflict drawn out with a bit more detail. Overall, I enjoyed the story and would read this author again.
I received an advanced copy of this book in exchange for an honest review.
View all my reviews