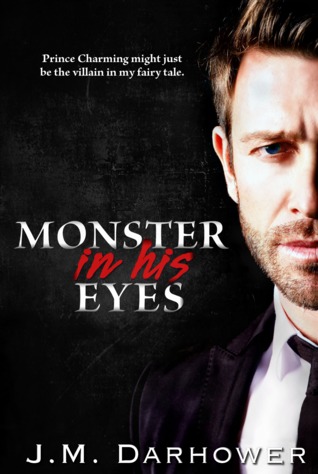 Monster in His Eyes by J.M. Darhower
My Rating: 4 of 5 Stars
Sultry Scale: 3 of 5 Flames
Ignazio Vitale is not a good man. I suspect it, the first time I see him, sense the air of danger that surrounds the man. He has a way of commanding attention, of taking control, of knowing what I'm thinking before I even do.
It's alarming and alluring. It's dark and deadly. It's everything I've ever wanted but the last thing I truly need. Obsession.
It doesn't take him long to draw me into his web, charming me into his bed and trapping me in his life, a life I know nothing about until it's too late. He has secrets, secrets I can't fathom, secrets that make it so I can't walk away, no matter how much I beg him to let me go. I see it sometimes in his eyes, a darkness that's both terrifying and thrilling. He's a monster, wrapped up in a pretty package, and what I find when I unmask him changes everything.
I want to hate him.




Sometimes, I do.

But it doesn't stop me from loving him, too.
I'm a sucker for a good dark story, especially if the dark character redeems himself in the end. The story of Karissa and Ignazio (Naz) spans these two books, so I am reviewing them together. When we meet Karissa, she is a very young, somewhat immature, and extremely naive freshman in college. Naz is old enough to be her father. And he's an enforcer for a mob boss. The man has secrets and demons. He is broken and broody. Why do we find these men so attractive? It's the fixer in us I guess. But can an 18 year old girl fix man twice her age if he has a secret connection to her past? You'll have to read both books to find out. I recommend that you do. I love Naz, despite his flaws. Karissa was annoying at times, but hey, she's 18. I can forgive her for that.