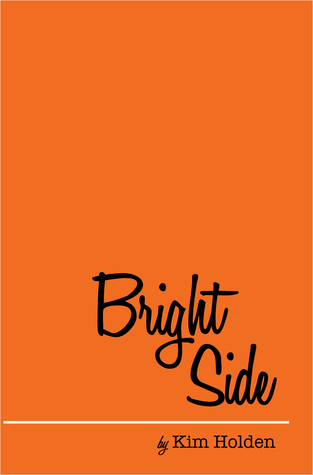 Bright Side
by
Kim Holden
Pub. Date: July 4, 2014
Publisher: Do Epic, LLC
Pages: 423
Format: eBook
Source: Purchased
My Rating:
Sultry Scale:
Secrets.
Everyone has one.
Some are bigger than others.
And when secrets are revealed,
Some will heal you ...
And some will end you.

Kate Sedgwick's life has been anything but typical. She's endured hardship and tragedy, but throughout it all she remains happy and optimistic (there's a reason her best friend Gus calls her Bright Side). Kate is strong-willed, funny, smart, and musically gifted. She's also never believed in love. So when Kate leaves San Diego to attend college in the small town of Grant, Minnesota, the last thing she expects is to fall in love with Keller Banks.

They both feel it.
But they each have a reason to fight it.
They each have a secret.

And when secrets are revealed,
Some will heal you …
And some will end you.
This book made me want to be a better person. Seriously, I'm not being cheesy. Kate is probably the most likeable and inspirational character I have ever read. We should all strive to be more like her.
I'm warning you, this is a very emotional story. You pretty much know something bad is going to happen through the whole book, but knowing that just makes the person you are reading about all the more special. I'm finding it hard to put my thoughts down on this one... so I will just say - Read it. Now. Even if you are not into these types of books, read it anyway. You won't be sorry. I'm not. Be brave. Like Kate.
I am meeting this author at a convention this weekend. I can't wait to shake her hand.
View all my reviews