| | |
| --- | --- |
| Series: | Vale of Stars #0.5 |
| Pub. Date: | Oct 25, 2016 |
| Publisher: | Self-Pub |
| Length: | 161 pages |
| Source: | Author |
I went into this little novella blind. Juliette's writing never disappoints me, so I knew I would like the story no matter what... but I wanted to be surprised on the main characters and romantic pairing. And I was!
If you have read the
Nightwing Security
series and/or
Waking the Dragon
, you will recall the powerful Cade family. As I read these series out of order, my memories of Jessen Cade and her family were still somewhat fresh from
Soulfire
, where the Cade patriarch and his his son, Demetrius, were heavily prejudiced against the Morgons, a race of human-dragon hybrids. So I was blindsided that the hero of this book was Demetrius Cade, the workaholic corporate mogul who went to great lengths to prevent his sister from marrying a Morgon male. While I am used to Juliette's yummy alpha male dragons, Demetrius proved that you don't have to breathe fire to be a tough guy. Demetrius has grown a lot since
Soulfire
. While he is not bosom buddies with the Nightwings (yet), he has at least accepted Jessen's marriage and spends time with her son on a semi-regular basis. He had the protective aspect of alpha maleness down pat, and he wasn't going to allow anyone to hurt his family or our heroine.
Shakara Icewing has always fascinated me. As a healer for Morgons and humans alike, she seems to be more delicate than the sassy heroines we have seen to date. I love that Juliette has added the detail of the shimmering dragon-scale-scar that is left behind after a Morgon healing... that is such a neat addition and I can see it clearly in my head. (Tattoo idea maybe? Hmmm...) While Shakara may not be a combative heroine, she does have an inner strength and was willing to stand up in protest of the Volt guns which were designed to kill the Morgon race. Her willingness to speak out in the face of danger was admirable, but I also liked that she was not afraid to lean on Demetrius for protection as needed.
This was a novella so the romance starts off fairly quickly, but I liked this couple together. Shakara's softness and fragility was a nice complement to Demetrius' stoic and serious demeanor. There was good chemistry and the perfect amount of steam and suspense to advance the story at a good pace. If there was one thing I would have liked more of, it would be back story for the couple. I would have loved to see more of Demetrius' turmoil and conflict of feelings when it came to his previously-held prejudice against the Morgons. I was also interested in the history of the Icewing clan as it seems like they have some intriguing secrets and characters. But the detail that we got fit well within the confines of a novella, and I understand that this is a prequel to the series. I'm just glad to know there is more to come!
Juliette is adept at drawing parallels in her paranormal universe that resonate with social issues in the real world. And she does it in a way that doesn't sound preachy or uppity, but shines a light on bigotry and social injustice that are still hot topics in the media today.
I voluntarily reviewed an advanced copy of this book that I received from the author.
About the Author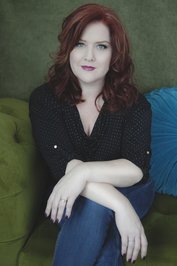 Juliette lives in lush, moss-laden Louisiana where she lives with her husband, four kids, and black lab, Kona. Multi-published author of paranormal and urban fantasy romance, she loves reading and writing brooding characters, mysterious settings, persevering heroines, and dark, sexy heroes. From the moment she read JANE EYRE as a teenager, she fell in love with the Gothic romance. Even then, she not only longed to read more novels set in Gothic worlds, she wanted to create her own.
You can discover more of Juliette and her books on her website.