Hi everyone! Yesterday, I attended my first ever author event. And I went a little fan girl a few times. But give me a break, it was my cherry-popping event! I'm sure that next time, I will be so totally chill that everyone will be dying to hang out with me. You know you'll want to. Admit it.
So, I am excited to say that I made some new friends. A good thing for the new girl in town. I also met some cool people, other book bloggers, some insanely sweet (and some insanely crazy) authors.
Bambi / Nicole
I fangirled a bit over Ms.
Nicole Reed
, author of the Forever Inked series. She was super fun and friendly, and I got some great swag and an autographed copy of Beautifully Inked. Some of these items will be given away on the blog. Stay tuned while I learn how to use Raffle Copter!
Meghan / Bambi
I also fangirled a bit over Ms.
Meghan March
, author of the Beneath series. She was such a cute, petite little thing. And she had fabulous shoes! She had some great swag, including pins that said "Unapologetic Smut Lover." They were great. I got an autographed copy of the first book in the series, Beneath This Mask. Another blog giveaway to watch out for.
If you read the first post about this event, you may remember that I wasn't really sure what I was supposed to "do" at one of these events. I mean, I am married to my tablet, ereader and phone, so I didn't really plan on picking up paperback books. The ones I did get, I think I will use for blog giveaways or gifts and such. So the night before the event, I decided to print out a copy of the book cover on photo paper, and I would have the authors sign that and create an album. I have to say, it worked pretty well. I wish I would have printed out a book from each author, because I wanted things signed from those I did not have the benefit of reading before I got there.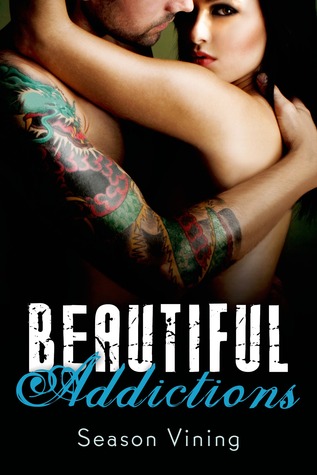 I got to hang out with a super cool and funny new (to me) author, Ms.
Season Vining
. Because she was SO cool, I moved her book,
Beautiful Addictions
, up next on my TBR. (And the scrumptious tattooed men on her book covers certainly don't hurt either!) Check out Season's
website
, she even has playlists loaded for her books.
I bought autographed copies of
Michelle Warren
's
Miami Hush Club
;
Alessandra Torre
's
Dumont Diaries
; a thriller by
Jessica Prince
,
Nightmares from Within
. All great authors that you should check out. I am excited to read Michelle and Alessandra's books, as I was not able to squeeze those in before the event. I was already a fan of Jessica and her
Deadly Love
series, so it will be interesting to see how she covers the thriller genre.
Finally, I got my signed copy of
Bright Side
by
Kim Holden
. As you recall from my review, its my first
5-Star Review
of the year. I encourage everyone to pick up a copy of this book and read about Kate Sedgwick. I think she is maybe the best female character I have ever read. There literally wasn't one thing that I disliked about her. So Be brave. Do epic. And live on the bright side.
After the event, we planned to go to the Mardi Gras parades and dinner. But we had a little snafu. We relied on the parade tracker, which we later found out was not accurate. So while we left the parade route for a half hour to get some dinner, the whole freaking parade passed us buy and we could not catch it. #epicfail. I apologize to everyone who was with us. But we will know for next year!
All-in-all, I think the event was a success and I am happy that I went. I think the girls have convinced me to go to the big event, the RT Roundup in Dallas in May. So the event website is my next stop. TTFN!